The AG271QG has a very different OSD compared to the AG271QX, with a much more limited range of options.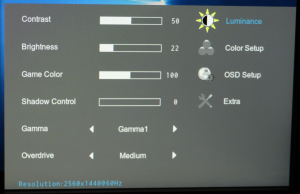 There are just four sections in the OSD, with the first being Luminance. This contains controls for Contrast, Brightness, Game Color, Shadow Control, three options for Gamma and four levels of pixel overdrive. The Game Color setting adjusts saturation, whilst Shadow Control operates in a vaguely HDR-like fashion so that detail is more visible in dark areas. This could be handy for spotting enemies hiding in the gloomier areas of a map.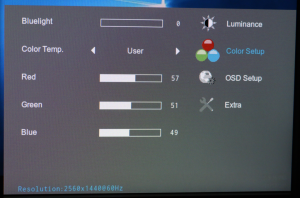 The Color Setup section provides control over colour temperature via four presets and a user-configurable option. There are Warm, Normal, Cool and sRGB presets, with Warm being the default rather than Normal. There's a Bluelight option, too, which can be adjusted to reduce the effects of eye strain.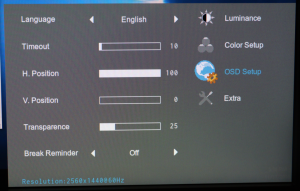 The OSD Setup section allows you to adjust how the OSD is displayed, and you can set up a reminder to tell you to take a screen break at certain intervals.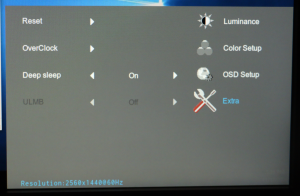 The final Extra section is where you can turn on the Overclocked 165Hz screen refresh, after which the screen will restart. There's a blur-reduction option as well (ULMB), but that didn't appear to be available at any of the settings we were using during testing.
Overall, while there are the essential features in the OSD that you will need, the range of options is far behind what is available with the AG271QX. It's not just the QuickSwitch keypad we miss. The OSD feels more like one you would see on a business monitor than one aimed at the gaming market.