The AOC AG353UCG is a phenomenal gaming screen. It's not absolutely perfect, with the merely very good colour accuracy the main chink in the armour. But otherwise there's very little to fault it. We're big fans of the superwide format, which has great immersion for gaming and loads of desktop real estate, without having quite so many pixels as 4K, and so not quite the need for such high-end graphics. This isn't the first 200Hz screen we've seen in this format, but the ASUS PG35VQ is £650 more expensive.
With adequate GPU power, the NVIDIA G-SYNC Ultimate support will give you smooth and very high adaptive-sync frame rates at the native resolution. There are lots of options to play with to get the gaming right, despite the seeming lack of variance in the presets. We also enjoyed the smaller touches, like the headphone stands on either side and the external Quick Switch menu controller, so you don't even need to reach forward to change settings.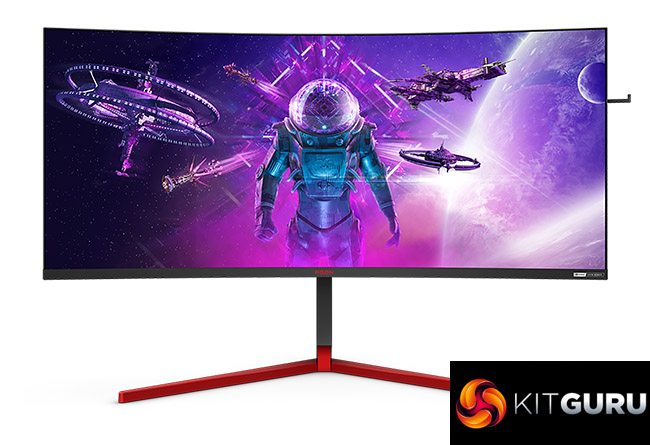 You get a good range of adjustment, and the four-port USB 3.1 Gen1 hub will be handy, although we always like to see a couple of ports on the side for easy access. The video inputs are a little meagre, particularly as one seems to have been disabled. There is one other thing we should point out about this monitor. It has an active fan that is quite noticeable when there are no other background sounds. However, given that most gamers will be using a headset, we don't consider this to be a dealbreaker, and the noise isn't audible if you have music playing.
The elephant in the room is the price. When you can pick up AOC's CU34G2X for £500 to enjoy 144Hz FreeSync gaming, the £1,850 price of the AGON AG353UCG seems excessive. However, you do pay a significant premium for 200Hz right now, particularly when allied with NVIDIA G-SYNC Ultimate and DisplayHDR 1000 support. With performance similar to the ASUS PG35VQ, this screen will save you £650 if you want the best superwide gaming experience currently available.
The AOC AGON AG353UCG is available from Overclockers UK for £1,849.99.
Pros:
200Hz refresh.
NVIDIA G-SYNC Ultimate adaptive sync.
DisplayHDR 1000 support.
Excellent colour uniformity.
Reasonable level of settings in OSD.
Plenty of ergonomic adjustment.
Built-in USB 3.0 hub.
External Quick Switch menu controller.
Headphone stands on both sides.
Cons:
Very expensive indeed.
Colour accuracy merely very good.
No USB-C connection.
Only two operational video inputs on our sample.
KitGuru says: The AOC AG353UCG provides frame-perfect superwide gaming at up to 200Hz with G-SYNC Ultimate support, but you pay significantly for the privilege.