Our main test involves using a DataColor Spyder Elite 5 Colorimeter to assess a display's image quality. The device sits on top of the screen while the software generates colour tones and patterns, which it compares against predetermined values to work out how accurate the screen is.
The results show –
A monitor's maximum brightness in candelas or cd/m2 at various levels set in the OSD.
A monitor's contrast ratio at various brightness levels in the OSD.
The brightness deviation across the panel.
The black and white points.
The colour accuracy, expressed as a Delta E ratio, with a result under 3 being fine for normal use, and under 2 being great for colour-accurate design work.
The exact gamma levels, with a comparison against preset settings in the OSD.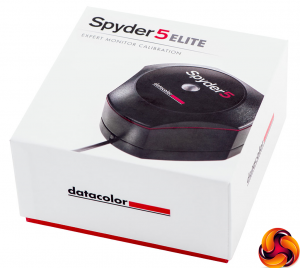 We first run this test with the display in its default, out-of-the-box state, with all settings on default. We then calibrate the screen using the Spyder software and run the test again.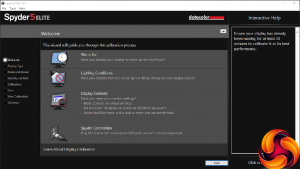 We always test the display subjectively on the Windows desktop, using it for general tasks such as browsing and word processing, and with games as well, even if the display is not intended solely for that purpose.
We pay careful attention to any artefacts, ghosting or motion blur, and enable any gaming-specific features, such as adaptive-sync settings like G-Sync or FreeSync, using a compatible graphics card in our test PC.
We performed the quality tests at the native 3,440 x 1,440 resolution in the default mode, after resetting the OSD, which uses a 60Hz refresh. Our main test system was equipped with an AMD Radeon Vega Frontier Edition graphics card, but we also called upon another system equipped with twin NVIDIA GeForce RTX 2080 Ti graphics cards for subjective gaming that supports NVIDIA G-sync.
Things don't get off to a great start, with the PG35VQ registering only 91 per cent sRGB and just 67 per cent of AdobeRGB. We were expecting quite a bit more. We will be returning to this issue later in the testing.
Brightness uniformity is better, with particularly impressive values in the middle left and right, top and bottom.
Colour uniformity is excellent at all levels of brightness.
The PG35VQ pretty much hits the exact brightness levels it should at all settings. Unlike some monitors, where 0 per cent is still quite bright, this screen only puts out 20.4cd/m2 at this level, and then reaches 496.7cd/m2 at 100 per cent brightness, which is close to the stated typical maximum. At 50 per cent brightness, the reading is 259.5cd/m2, which is just about halfway too.
The contrast is excellent as well, reaching 2,280:1 at 100 per cent brightness (note that the default contrast setting is 50 per cent, and the Spyder under-reports contrast anyway). The white point is a very consistent 6700K until you near 0 per cent brightness. Overall, these are very dependable results.
The OSD settings are highly unusual. The variation doesn't appear to be very great. For a start, all but Cinema mode use a 6700K white point and deliver pure black. There is clearly some dynamic contrast enabled, because the values are hovering around 300,000:1. Scenery mode is the brightest, at 358.9cd/m2, and Cinema mode the least bright at 289.5cd/m2. All the rest hover around the 310cd/m2 mark. The difference between these modes is more how the other monitor settings are configured.
The gamma modes provide another area where this monitor gives you exactly what you're expecting, with every option hitting the gamma level of its name. The default, unsurprisingly, is 2.2, and it's great to have this range available if you want it.
Colour accuracy is another win for the PG35VQ, with an average deviance of just 1.26. We have seen better, but not by much.
Nevertheless, we wanted to see if we could get an improved result with some calibration, so we fired up the Spyder's system to see what it could provide.
The gamut is just as dismal as it was before, with sRGB and AdobeRGB values that are actually a couple of per cent lower than pre-calibration.
We were very concerned about this result, and tried a bunch of things to try to improve the gamut, including installing our Spyder colorimeter in the NVIDIA-based system. That did improve things a little, but what actually made a real difference was going into the System Setup section and changing the Display SDR Input setting from sRGB to Wide Gamut. This is supposed to be for Mac OS systems, but the results were a revelation.
As you can see, we now have 100 per cent of sRGB and 82 per cent of AdobeRGB – a very good result and what we would have expected from this monitor in the first place. We have told ASUS about our findings and they are currently working on a fix for this issue. Either way, if you buy this monitor, switch it to Wide Gamut whether you're using a Mac or not.
We only retested the 2.2 gamma setting, which remained bang on 2.2.
Colour accuracy was even better, with an average deviation of 1.01. The best scores we have seen have been around 0.8, so this is up there with the very best we have ever tested.
Of course, gaming is where this screen is in its elements. We were lucky enough to have a system sporting NVIDIA GeForce RTX 2080 Ti graphics in the lab for some of our test period (and also a 28-core Xeon CPU), so hooked that up to the ASUS ROG SWIFT PG35QV via DisplayPort and tried CS:GO, Shadow Warrior 2 and Rainbow Six Siege with the FPS present, and League of Legends with the RTS/RPG preset.
The screen size is great for a game like LOL, but it was the shooters that really benefited. With the 200Hz maximum refresh allied with NVIDIA G-sync, the screen delivered silky-smooth frame rates, with CS:GO in particularly getting up to the maximum regularly and feeling incredibly responsive indeed. You can also give yourself a bit of slightly frowned-upon advantage using the hardware crosshairs and Dark Boost.
Shadow Warrior 2 also supports HDR, and turning on that provided a quality boost without any noticeable deficit in terms of smooth frame rates. Admittedly, we were using one of the most powerful PC configurations currently available, but if you're going to buy a £2,700 monitor, your gaming system is likely to be similarly top-end.
Overall, apart from the surprising gamut results, this monitor delivers great performance, but the truly unique aspects are the 200Hz refresh and NVIDIA G-sync, which can really deliver if you have powerful enough graphics that can deliver frame rates this high.