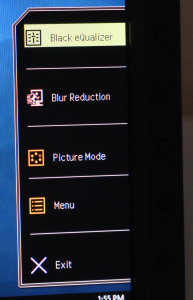 Clicking one of the buttons on the edge of the screen, or the scroll wheel or return button on the S switch Arc, calls up the initial quick menu. This provides access to the Black eQualizer, Blur Reduction and Picture Mode, or you can head to the main menu.
The Black eQualizer brings out detail in shadows, which is handy when playing games that have dark areas, for example it could give you an edge in Doom. It has a scale from 1 to 20. Blur Reduction has a similar result to a higher refresh, although there is allegedly a small amount of input lag from this setting so the highest 144Hz refresh and Adaptive Sync are your best option. Although some Blur Reductions have adjustments, this screen only appeared to have just on or off.
The Picture modes are quite extensive, with two FPS modes available, a RTS mode, three user-configurable Gamer presets, a Movie mode and a Standard mode for situations that don't fit any of the other options.


The first menu section is Game Settings. This provides another route to Blur Reduction and Black eQualizer, plus Color Vibrance, Low Blue Light, Instant Mode, Auto Game Mode, and the option to save your settings into a preset slot.
The Color Vibrance is a saturation control, whilst Low Blue Light is about reducing eye strain. Instant Mode reduces the image processing (and thereby image quality) but can reduce input lag by up to 20ms, which can give you the edge with lots of game types. Auto Game mode detects screen content and adjusts accordingly, which could lead to inconsistent results or improvements, depending on the situation.


The Picture options provides access to the various Picture Modes again, plus Brightness, Contrast, Sharpness, Gamma, Color Temperature, AMA, Dynamic Contrast and the ability to reset to defaults. There are five Gamma modes, and Color Temperature has Normal, Bluish and Reddish presets, plus RGB sliders for custom control.
AMA, like Instant Mode, improves the response time. Dynamic Contrast boosts perceived contrast, by shifting brightness and contrast dynamically, but it can reduce detail.

The options available in the Display submenu depend on which connection you are using. You can select the input here, and there's an option to change the way the input is interpreted via Display Mode. This is handy, for example, if you have an old 4:3 title you don't want stretched across the entire screen width.
If you are using a HDMI connection, you can change the RGB range. Overscan allows you to remove the garbage from the edges of a broadcast signal. The Geometry option will only be available with an analog VGA input.
The final System menu lets you adjust headphone volume, how the OSD behaves, and what the top three menu control buttons on the monitor do. As described above, by default these are Black eQualizer, Blur Reduction and Picture Mode, but many more functions are available. You can read off information about the current monitor setup, plus adjust a sundry array of settings that don't fit anywhere. You can reset everything here, too.
Overall, there is a good array of options in the OSD menu and plenty here for the serious gamer to get the most out of. There is definitely lots to attract the intended market and make this screen one that can improve your gaming competitiveness, which was the primary goal of this display. So job done in this department.