Iiyama has a long reputation for producing professional monitors, dating back to the days of the CRT. Although we have recently reviewed some of the company's more consumer-oriented models, such as the Red Eagle G-MASTER GB2560HSU, we haven't seen anything from its professional ProLite range for a while. With the ProLite XB3070WQS we aim to set the record straight. This hefty 30in screen is very much for the serious user.

The XB3070WQS is unusual in today's monitor market in that it uses the 16:10 aspect ratio rather than 16:9. So whilst it has 2,560 pixels horizontally, there are 1,600 pixels vertically, when most consumer-grade screens would have 1,440. Before 16:9 became the norm, the 16:10 aspect was the main widsecreen option, and the extra vertical screen real estate will always come in handy for creative work.
Unsurprisingly for a professional monitor, IPS panel technology is used, in this case a variant called AH-IPS. Since this isn't a gaming screen, no high refresh rates are on offer, although up to 75Hz is possible. The brightness and contrast ratings are typical, with 350cd/m2 and 1,000:1 respectively. The 5ms pixel response is also typical, but again as this isn't a gaming monitor it's nothing to worry about.
You get the full complement of connection options, with VGA, DVI, HDMI and DisplayPort all present, alongside an analog minijack for headphones when using digital audio from the HDMI or DisplayPort connections. Stereo 3W speakers are built in as well, plus a minijack for analog audio input. There's no USB hub, however.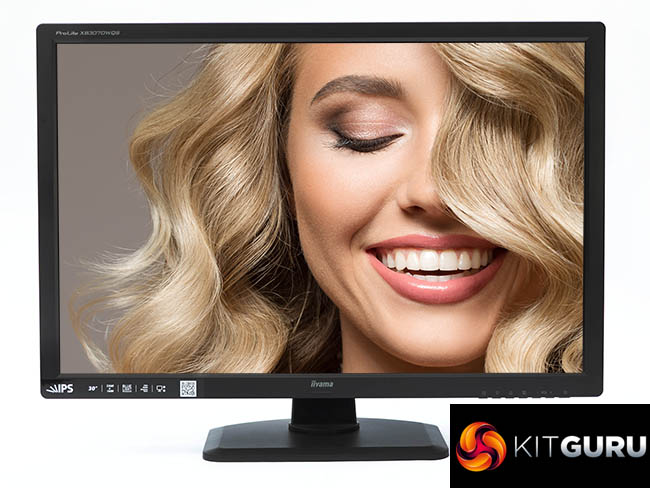 The range of adjustments is reasonable, including 107mm of height variation, swivelling 45 degrees left and right, and 17 degrees of backwards tilt (but none forwards). With a price under £700, the XB3070WQS isn't quite in the same premium category as the ASUS ProArt PA32UC, but with Iiyama's pedigree, this could be a more mainstream professional option. Let's find out how it fares.
Specification:
Screen size: 30-inch, 16:10 aspect
Native resolution: 2,560 x 1,600
Refresh rate: 75Hz
Panel type: AH-IPS
Contrast ratio: 1,000:1 (typical)
Brightness: 350cd/m2
Response time: 5ms Grey-to-Grey
Display inputs: HDMI, DisplayPort, DVI, VGA
USB hub: No
Tilt: 0 degrees forward, 17 degrees backward
Raise: 107mm
Swivel: 45 degrees left and right
Other: Minijack audio input and output, stereo 3W speakers
Retail Price: £687.78 (inc. VAT)
Be sure to check out our sponsors store EKWB here