The Iiyama Red Eagle G-MASTER GB2760QSU is a bit like the quiet kid at school who sits at the back of class and then gets some of the best test results in exams without anybody quite realising how. There are many gaming screens that look amazing but only deliver mediocre results. This monitor, on the other hand, looks fairly ordinary but provides some great performance at a relatively inexpensive price.
Colour accuracy, with calibration, is excellent, and you've got fast pixel response alongside 144Hz refresh and FreeSync. The resolution of 2,560 x 1,440 is a current sweet spot for higher-end graphics and is about right for a 27in diagonal as well. Only the mid-range gamut lets the side down a little.
The two-port USB 3.0 hub adds convenience for attaching your keyboard and mouse or plugging in memory keys. We would have preferred more ports, but having the ones available on the side is very handy, and you get built-in speakers which are useful if you mostly use headphones and don't want to bother with external speakers.
There is a reasonable range of adjustment available in the OSD, which could have done with a movie mode but at least has three custom user preset slots.
The one caveat with the Iiyama Red Eagle G-MASTER GB2760QSU is that you might be considering a curved screen as your next upgrade, and there are now a few options around this price range with similar features and resolution. Nevertheless, this is a capable 27in gaming screen that does its job well without shouting about it too much.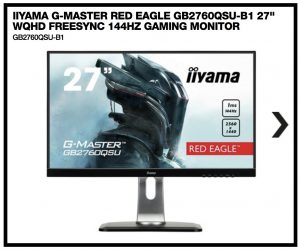 The Iiyama Red Eagle G-MASTER GB2760QSU available from BOX for £338.99 HERE
Pros:
Excellent colour accuracy when calibrated.
144Hz refresh-rate.
FreeSync adaptive frame rate synchronisation.
Lots of options via OSD.
Comprehensive physical adjustment.
USB 3.0 hub with convenient side ports.
Built-in speakers.
Cons:
KitGuru says: The Iiyama Red Eagle G-MASTER GB2760QSU provides competent gaming features, including great colour accuracy when calibrated and smooth 144Hz FreeSync gameplay for a reasonable price.