Our main test involves using a DataColor Spyder Elite 5 Colorimeter to assess a display's image quality. The device sits on top of the screen while the software generates colour tones and patterns, which it compares against predetermined values to work out how accurate the screen is.
The results show –
A monitor's maximum brightness in candelas or cd/m2 at various levels set in the OSD.
A monitor's contrast ratio at various brightness levels in the OSD.
The brightness deviation across the panel.
The black and white points
The colour accuracy, expressed as a Delta E ratio, with a result under 3 being fine for normal use, and under 2 being great for colour-accurate design work.
The exact gamma levels, with a comparison against preset settings in the OSD.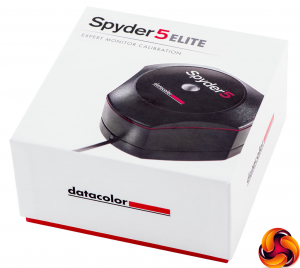 We first run this test with the display in its default, out-of-the-box state, with all settings on default. We then calibrate the screen using the Spyder software and run the test again.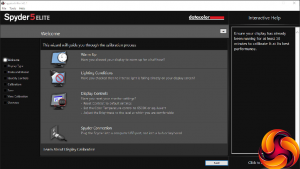 We always test the display subjectively on the Windows desktop, using it for general tasks such as browsing and word processing, and with games as well, even if the display is not intended solely for that purpose. We pay careful attention to any artefacts, ghosting or motion blur, and enable any gaming specific features, such as adaptive-sync settings like G-Sync, using a compatible graphics card in our test PC.
In the case of the Samsung, we performed the primary testing at the native 3,440 x 1,440 resolution in the default Standard preset mode. We also set the monitor at 60Hz (which is not the default – this is 100Hz) because higher refresh rates can affect colour performance. Our test system was equipped with an NVIDIA Quadro K2200.
As should be expected with the Quantum Dot technology, colour gamut is very good, with 100 per cent of sRGB and a very commendable 84 per cent of AdobeRGB, which is close to the best we have seen.
Brightness uniformity is good too, with the only slight issue being the bottom central section.
Colour uniformity is very good across the range of brightnesses.
There's a nicely linear progression of recorded brightness compared to brightness setting, with the screen getting very close to its rated 300cd/m2 at 100 per cent.
The black level increases uniformly as brightness increases, and contrast goes up a little, but it's a good score around 1000:1, showing one of the benefits of the VA panel. The white point is almost entirely identical across the full brightness range, which is also highly commendable.
The OSD presets are a little strange. The Standard mode drops brightness to about half, with a relatively modest black level, contrast and medium-level white point. Cinema mode, on the other hand, switches to maximum brightness, a deeper black, higher contrast at 1,200:1, and a cooler 7100K white point.
Dynamic Contrast isn't that different to Standard mode in this test, but we suspect that the contrast will vary depending on the content onscreen. Basic Color isn't that different to Cinema mode in this test, nor is High Brightness.
Gamma Mode 1 is pretty much spot on 2.2, whilst Mode 2 is 2.4, and Mode 3 is 2.6. These are all very high settings, although the default brightness for this screen is 100 per cent.
We were expecting a good colour accuracy out of the box, thanks to the factory calibration, and weren't disappointed. The average variance of 1.21 isn't the best we've ever seen, but it is very good indeed.
We still wanted to see if there was more available, so next up we used the Spyder to calibrate the screen ourselves.
The AdobeRGB gamut had gone down by a little to 82 per cent, which is still very good, whilst sRGB remains at 100 per cent.
We had left the gamma in Mode 3, so this has dropped down a notch from 2.6 to 2.5, which isn't a surprise as calibration led us to reduce brightness well away from the 100 per cent setting.
Colour accuracy has gotten worse, dropping to 1.39. This is still a great score, but shows how the factory calibration can't be beaten, so we would recommend leaving things alone and not bothering with trying to improve things. In general, we have found the colour accuracy of factory-calibrated monitors can't be improved on with our own adjustments.
The Samsung CF791 lives up to its quality billing well. Out of the box, colour accuracy is amazing, brightness uniformity is good and colour uniformity excellent. Gamers don't get super-high refresh rates, but 100Hz is still above many and with FreeSync available, tear-free variable frame rates are available, even if the response rate isn't superb.
Your graphics card probably won't be able to deliver more than 100 frames/sec at the CF791's native resolution anyway. We tried a few gaming titles and although the experience wasn't as smooth as full-on gaming screens like the ASUS ROG SWIFT PG258Q, it was still very pleasant.