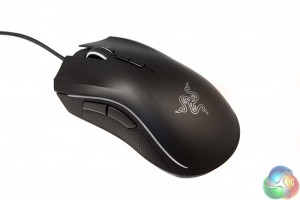 The Razer Mamba Tournament Edition looks very much like the Mamba that Razer recently announced at E3; except this one has a cable. Its main body is black plastic, with some clear-cut outs for the palm rest Razer logo, the curved lighting strips down the sides and the surround on the scroll wheel. These will light up when the mouse is powered on.
The overall feel of the mouse is sturdy, with no creaking or clicking as you squeeze it. The buttons are built into the main body and can be pressed from as far back as the apex of the spine's curve, meaning this should work just as well for claw gamers as palm grippers. Although it could probably be used by a left-handed gamer, the Mamba Tournament Edition has a specifically designed curve for right-handed comfort.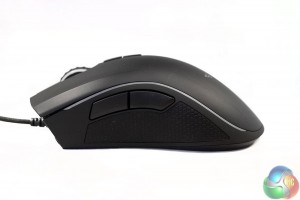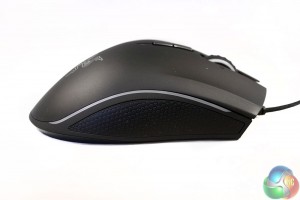 The left and right hand sides are a little different from one another. While both feature rubber grips for thumbs and fingers, the left hand side has a pair of buttons, which are placed in a fashion so that a 'rocking' motion can press them. That should make it easier to use them mid-game if that is something you like to do.
At the front end, you have the usual left and right mouse buttons, surrounding the embedded scroll wheel. The wheel has a textured rubber surface to make it easy to grip and as well as having the secondary button press function when depressed, it can also be rocked from side to side for two additional keys. By default, they scroll up and down without you needing to flick the wheel.
That said, should you install the Synapse software, those are automatically remapped to scrolling left and right instead.
The underside of the mouse (besides being something you should not look at when it is plugged in: laser!) has a centrally located sensor, and three polytetrafluoroethylene (unbranded Teflon) pads. The cable is braided, with a gold leaf header.