How do you go about testing a mouse like this? You use it. For a period of just over a week, I used the Razer Mamba Tournament Edition as my main gaming rodent, putting it through its paces in games from a number of different genres, as well as using it for more office related tasks, like web browsing and photo editing. All the while, it was considered for its accuracy, speed and comfort, with the back-end software also evaluated.
Gaming wise, I was very impressed with the Mamba's abilities. It is supremely accurate and has fantastically smooth movement, regardless of the genre or game. I tried it out in FPS titles, MOBAs, puzzlers, exploration and point and click titles and it performed equally well in all of them.
This is a little surprising considering its use of a laser sensor, as most professional and high-end gamers prefer an optical mouse, but I struggled to see any faults with this one. That may be because I am not a high enough level of gamer to appreciate it, but I have tested a lot of mice and been playing PC games for nearly three decades, and this one was a joy to use.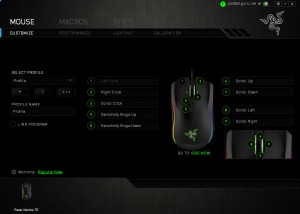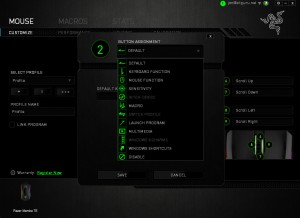 The software is easy to navigate and make adjustments in
Admittedly, this was at a much lower resolution that this mouse can hit. I honestly have no idea how anyone could play a game at 16,000 DPI. Despite it being "native," and not achieved through some interpolation, I did not even get close, using the mouse mostly at around the 2,000 DPI mark. That may seem silly when there is all that sensitivity head room, but I did try to use the mouse at its maximum resolution and found myself wondering what possible application it could have.
Even Razer itself admits that unless you have three 4K monitors, 16,000 DPI is unnecessary and even then it's usefulness is dubious. Still it can't kill to have the option.
I am not a big side button user, but found their positioning nice and especially the fact that they were slightly larger, which should mean it caters well to those of different hand sizes. The thumb and finger grips were equally strong and even during the most perspiration inducing games, I did not find my hand slipping even the slightest.
Tracking wise, I found that the Mamba worked slightly better on hard surfaces, but was equally at home on various mouse mats or even on the desk top.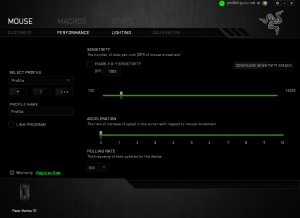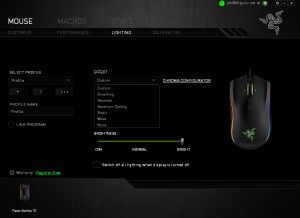 Despite the fact that the Razer Mamba Tournament Edition has a fantastically deep back-end software suite – as part of Razer's Synapse system – it is not something you need to play with if you do not want to. The mouse is wound really tightly right from the get go, with acceleration at zero, plenty of DPI steps to play with in reasonable jumps and buttons that are mapped to obvious choices.
Thanks to the fact that it comes fitted with DPI up and down selector buttons too, I was able to drop down into much lower DPI steps when gaming and when conducting sensitive tasks in Photoshop. However, for general web browsing when I was clicking on big, obvious headlines or images, I was able to raise the sensitivity up at the click of a button. That is much more preferable to the single-button cycle system some mice use, which can leave you waving the mouse around wondering which sensitivity you are at.
Those with long fingers may run into some issues when adjusting DPI on the fly, as the buttons are a little far back from the front of the mouse – particularly the DPI lowering switch – but for those with smaller hands like myself, it was not much of a problem.
If you do not like the DPI steps offered at stock however, you travel into the back-end software where the Razer mouse does offer adjustments of sensitivity down to the single digit DPI, so if you particularly want a step that is 1768 DPI, you can set it so.
Liftoff distance can also be adjusted, all the way down to a claimed 0.1mm. While I am a little dubious as to that being the case – since even at the lowest setting I was able to hover the mouse and move the cursor, which I do not think is possible to do at the 10th of a millimeter level – this mouse is certainly great at avoiding any unnecessary lift-off based tracking. During gaming and general usage I did not see it happen once.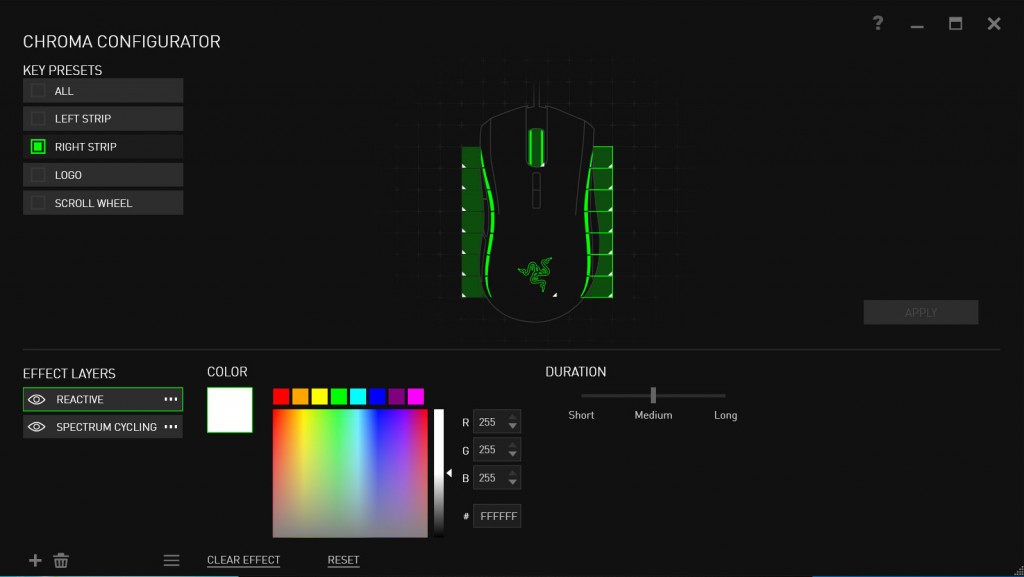 Lighting options are surprisingly deep and though perhaps a little redundant, for those that love to tweak, they're there
The only downside to the software seemed to be that it requires an internet connection and only lets you save profiles in the cloud – not in the mouse itself. It does however have an SDK, so as well as Razer continuing to develop the platform in the future, it is also hoping some enterprising developers can come up with third-party applications to expand its usefulness. So perhaps someone will find a way to locally save your profiles or take them with you on a USB stick.
Razer explained to us after the review went live 'it does save the profile locally and then backs it up to the cloud, very similar to DropBox – you can, once Synapse is installed, just set it in offline mode and never touch the web again with it.'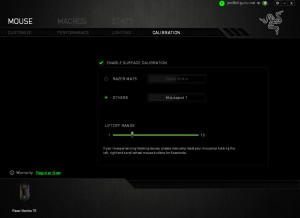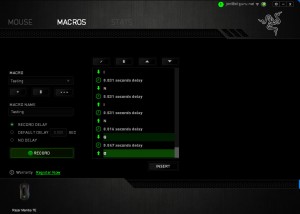 Although I feel like mouse lighting is designed more for when the mouse is not in use, or to show off to friends, the application of it on the Mamba Tournament Edition is well done. It is subtle enough that is not in your face, and the fact that you can choose the colours from the entire RGB spectrum and the different lighting options – including a reactive one which is quite fun – should keep everyone happy. Plus, for this price tag (£80) you would expect some fancy lighting.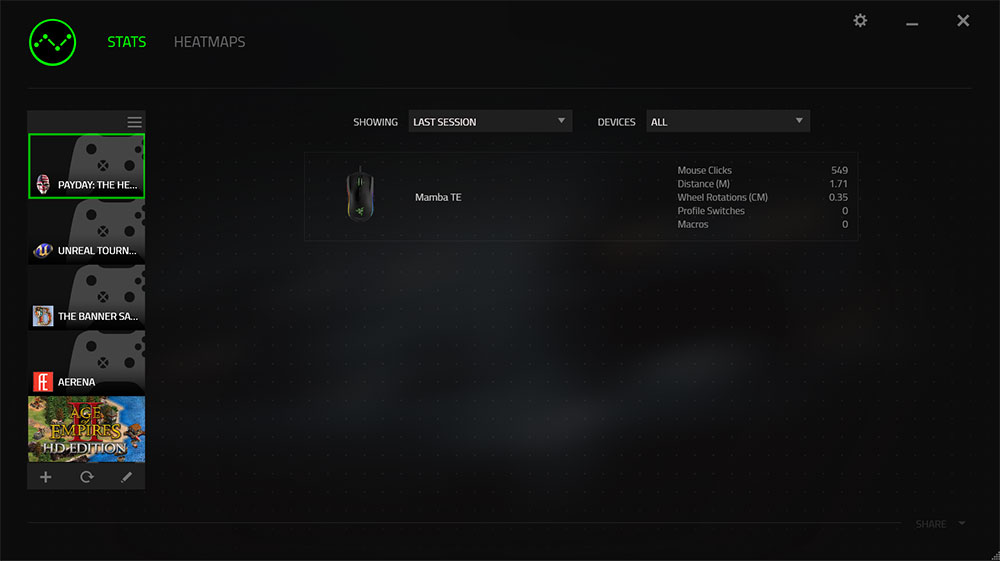 If you want to know how often you click, Razer has some software for that too