ASUS has been pushing its peripherals a lot more in the past few years, finally releasing the much anticipated ROG Claymore detachable keyboard late last year after a very long wait. The company's new addition to its ROG line is the Horus GK2000 RGB, with Cherry MX RGB switches.
The ROG Horus GK2000 RGB follows on from the previous GK2000 with static red lighting, adding a few new features to boot. Alongside the added RGB lighting and switches, the Horus RGB is able to be synced with ASUS Aura. Its new 32-bit MCU controls lighting effects, profile settings and macro creation, stored in the now-doubled 8MB memory.
The design of the Horus line in general seems to follow on from the sharp edges shown on the Cerberus keyboard, however this time coming paired with the now-standard wrist rest embedded with ASUS' stylish logo in the centre. Those aggressive edges aren't just for show, although the look is fairly unique, as it offers users a detachable phone stand. This is one feature I appreciated on the Logitech Atlas Spectrum, and still use that detached holder despite moving on to a different keyboard entirely.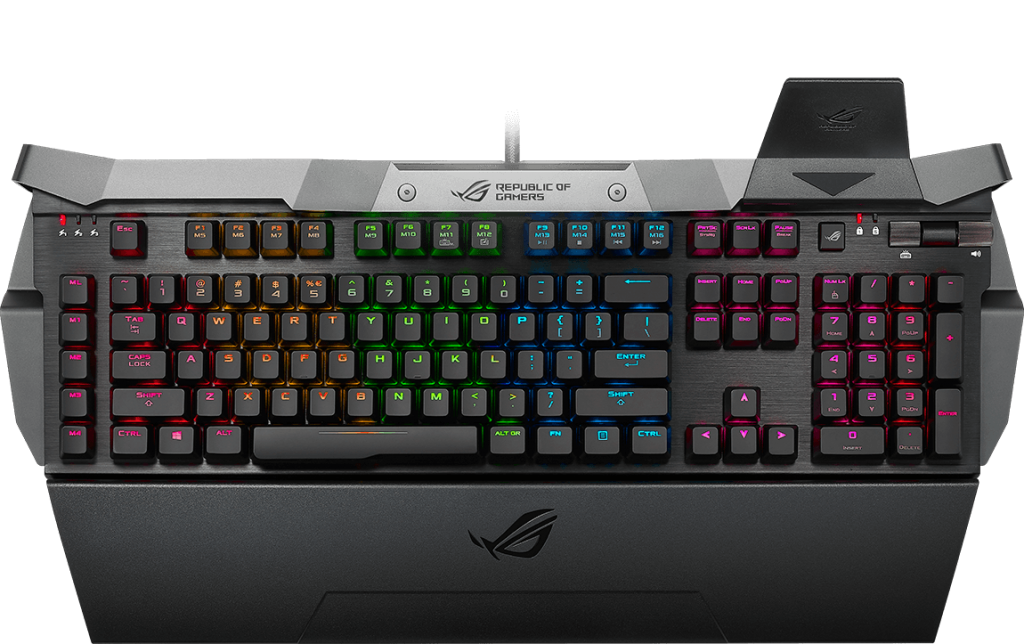 Five dedicated macro keys sit on the left hand side of the board, sporting Cherry MX RGB keys that offer 4mm of travel before actuation, are tactile and rated at 50 million keystrokes. Similar to most flagship Corsair releases, the Horus RGB houses an analogue volume wheel in the top right corner.
Perhaps one of the most underrated and lost features in modern keyboards is USB pass through, to which the Horus RGB sports a whole mini-hub. Along with two USB ports, there is also a headphone and microphone jack located on the back, behind the sharp surrounding accents.
Unfortunately, ASUS hasn't given the ROG Horus GK2000 RGB a price or release date, which is a shame as people certainly don't want to wait as long as they did with the Claymore, which is a KitGuru Must Have with 9/10. Then again, good things come to those that wait.
KitGuru Says: I am still heavily invested into the idea of the ASUS Claymore, as it is a mechanical equivalent of the incredibly expensive Mad Catz S.T.R.I.K.E.7 which was the board I fell in love with before making the jump to mechanical. The Horus RGB, however, does satisfy a lot of needs and users are sure to love the USB pass through and phone stand. Are you interested in the Horus RGB?