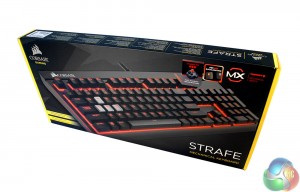 The packaging for the STRAFE is very typical of Corsair, with a high quality box, mostly in grey and black with a yellow panel at the end to break it up. The front and back have large pictures of the keyboard itself, along with some of the optional keys in place.
There is also a sticker to tell you which Cherry MX switches that this board comes fitted with. In this case, red.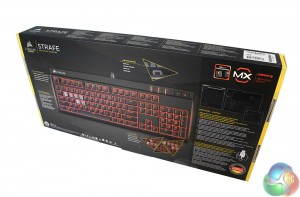 The back talks up some of its more impressive features, like the customisable per-key backlighting, NKey rollover and the deep and option-filled back-end software.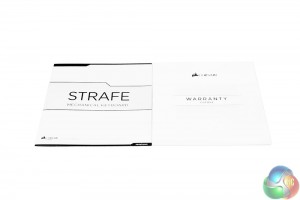 Along with the STRAFE, you get the usual set up manual and warranty leaftlet.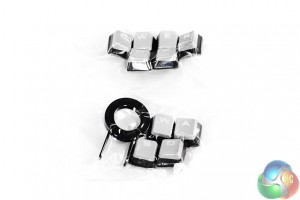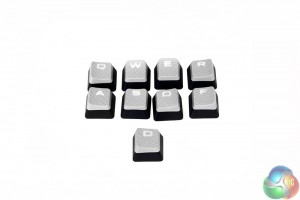 But the textured keys are the more impressive inclusion. They come vacuum sealed, which is a bit different. As well as having a textured metal-like surface, they also have different gradients than the usual keys and there are even a couple of variants for each of the W and D keys.
We checked in with Corsair what the reason was for the different slope directions on the optional keys was. It said:
"QWERDF is for MOBAs – the D and F keys are used separately as a pair of actions keys, so they are sloped together. Generally your little, ring and middle finger drive QWE and your index drives RDF, hence the sloping."
"The WASD is designed to be for FPS gaming."