The Corsair Gaming STRAFE has some great features with its Cherry MX Red switches, the industry standard (although hard to understand) Corsair Utility Engine, its 100 per cent anti-ghosting, per-key backlighting and the overall strong build quality.  This means that it is great to game on, great to type on, and quite the looker if you are a fan of red on black (with a little red underneath too).
As great as all these features are though, they are available on similar boards for a noticeably lower price.
The STRAFE also suffers from the fact that there are better switches out there than the standard MX Red keys these days, though the STRAFE will be available soon in Brown too.
There could be a few extra underside feet to make the grip a bit better as well, and there are the usual issues with the backlighting being off-centre, since MX switches are not designed with good LED coverage. It is also limited to red, though RGB backlighting does tend to set you back much more than this particular board's price tag.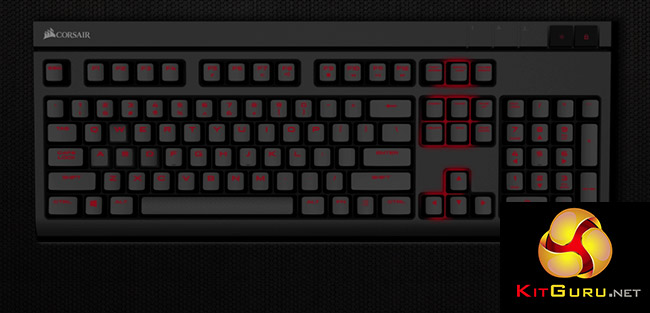 The STRAFE is not even monumentally expensive, it is just a good few pounds more than some of its feature-filled rivals. You can get a board with high production values, good back end software, monocolour backlighting and anti-ghosting for £70-80 from other manufacturers. The back end software and customisation may sell you on the STRAFE, but if you are the kind of person that wants that deep level of tweakability, it might be worth spending a bit extra to get the full experience with RGB lighting and (if you go for another manufacturer) better switches in some cases too.
The Corsair Gaming STRAFE occupies an interesting range, where it is not quite a top end, high performing board with the best of everything and it is not quite the mid-range hardware it has the feel of. It is a good board, by any measure, but there are better ones out there and in some cases for less money too.
The Corsair Gaming STRAFE keyboard can be found at Overclockers for £100.
Discuss on our Facebook page HERE.
KitGuru Says: Although the STRAFE is a well built, dependable and high-performing keyboard, we could not help but feel ourselves longing for something more, or at least something similar with a lower price tag. 

Pros
Red switches are great for gaming and typing.
Clean, professional look. Red key-bed looks good with lighting.
Corsair Utility Engine offers deep, heavily customisable back end software.
Raised keycap base makes cleaning much easier.
USB pass-thru, Windows lock key included.
Additional textured keycaps make it stand out.
100 per cent anti-ghosting.
Features the classic logo.
Cons
Underside feet could do with more grip.
Additional keycaps feel functionally redundant.
Per-key back-lighting is off centre and limited to red.
Expensive.