To test a keyboard like the Corsair STRAFE, we put it through its paces in a number of different gaming and general usage scenarios. That means testing it in multiple games of different genres that require different types of control, as well as typing on it for upwards of eight hours a day for just over a week.
Throughout all testing we take into consideration its comfort and 'performance,' as well as any special features and its back end software.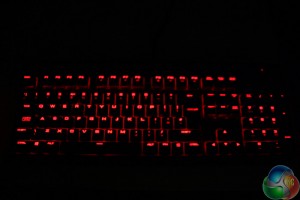 Lighting is restricted to red, but is very versatile
Since the STRAFE is a gaming keyboard, the first tests we put it through were the gaming kind. To make sure it stood up to the vigorous gaming habits of its potential users, we trialled it in MOBAs, RTS titles, shooters and anything else we could find that would let us control it with a keyboard.
As you would expect form a system that uses Cherry MX Red switches, it performed very well, exhibiting all the usual plus points of that switch type. They are fast and light and though they lack the actuation feel of brown switches (our personal favourite) their low – 45g- actuation pressure means that they are the fastest switches available from Cherry.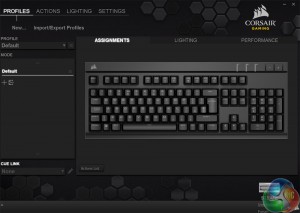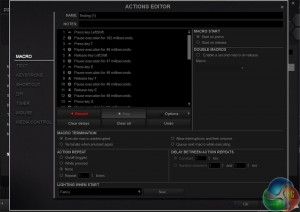 The Corsair Utility software is some of the most versatile available for any peripheral customisation
Save perhaps those ones that it has begun putting in its new 6.0 keyboard, which are twinned with a faster "analogue" interface. There are also a few alternative switch designs from Steelseries and Logitech which have a slightly faster actuation.
As for the additional grey, textured and angled key caps, I did not find they particularly improved gameplay by any measurable margin. They look cool though.
100 per cent anti-ghosting means that every single key on the board can be pressed at the same time without a single one being missed, making this great for those that like to hotseat games, or just play very, very quickly.
In terms of general usage, the STRAFE again performs well. It is comfortable to type on for long periods and the switches allow for fast and accurate input. The brown switch alternative of this board is likely to be better for typing, as the actuation feedback lets you know when the key is pressed without having it to bottom out. It is subtle, but the difference is there.
Likewise some of the other switches being used in other keyboards like the Steelseries Apex M800 are nicer to type on for longer periods, but that and the aforementioned Cherry 6.0 are both vastly more expensive than the STRAFE. Red switches are not the best for typing, but they could be considered better than black because they are lighter and less tiresome, and they are certainly quieter than blues.
Above all though, they trounce every membrane board.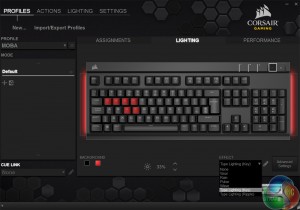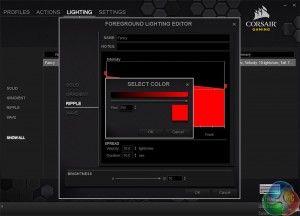 Comfort wise, the Corsair Gaming STRAFE is very nice to use. I particularly liked the textured space bar – though I could see that wearing off in select places after hundreds of hours of usage. The slanted gaming keycaps did not hinder typing as might have been expected and in-fact after a short while you do not even notice they are there.
I did miss that this board does not come with a wrist rest though. The flat front edge does mean adding your own third-party one should not be too difficult, but a built-in or attachable one would have been nice to see.
While I never noticed it moving during gaming or typing, it does feel like the STRAFE could use some extra rubber feet on the bottom. When raised up on the extender legs it is very easy to slide around, pivoting around the right hand side where it is heavier. Adding a rubber coating to the base of the extender leg would be the easiest place to put one, as when laying flat, the keyboard stays still.
Some indicators are underlit due to the LED placement on the mechanical switches

This board is incredibly easy to clean though. Thanks to the fact that the base of all of the keys are self-contained and raised almost flush with the rest of the frame, once keycaps are removed, getting a duster or vacuum head in there is a doddle.
One of the big selling points of this keyboard however, is that it supports the incredibly deep back-end software, known as the Corsair Utility Engine. It is much the same as when we reviewed the Corsair Vengeance K70, with all of the options for key assignments, lighting, macro recording etc.
It's still not particularly easy to understand from the offset and can require some playing around with. Once you have gotten over the hump in the learning curve though, it is some of the best peripheral back-end software available. The only real difference between this version of it and what you have access to with some of Corsair's higher end gaming products is that it is monocolour. In this case, the only lighting options are red, so whether you have rain effects, reactive lighting, ripples, waves or all of them on at once, they are always red.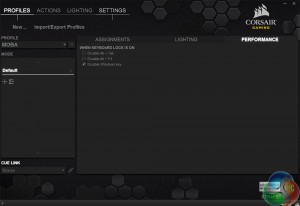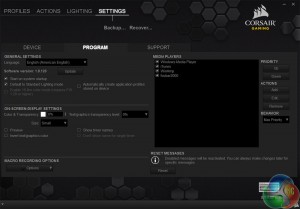 Profiles can be saved to the device, as well as locally.
Media keys being within reach of a single hand was a nice touch. Something that a lot of manufacturers seem to miss when creating their boards.