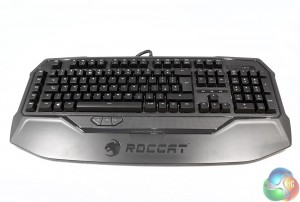 With its molded wrist rest, The Roccat Ryos MK FX has a much stockier appearance than other boards which can attach and detach them at will. It features a black paint job throughout its design, though the key surrounds have a dotted glossy surface, which gives it a reflective appearance, while breaking up any smudging and finger prints – it is a really neat design choice that looks great.
This Ryos MK FX is surprisingly heavy, with the majority of the weight sitting at the back of the board. This should mean it is much less likely to slide around under heavy use and makes it a prime candidate for James McAvoy to smash Chris Pratt with if he ever does a sequel.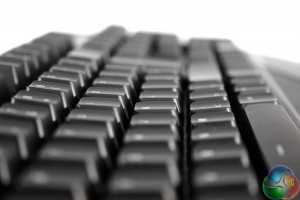 The keys themselves are slightly concave in the traditional style and feature clear plastic lettering to allow the backlight to shine through when powered on.
The key caps on this board are not designed to be removed, so do not come away easily. However when pried free, you can see that the MK FX employs Cherry MX switches – Browns in this case. They also feature clear surrounds, to improve LED backlight coverage on the key, though the LED itself is still located at the top of the switch.
The backdrop for the keys is painted white, which aids light dispersal too, making the backlighting on this board more uniform than others.
Media keys on the Ryos MK FX adorn the F1 keys as secondary functions, which are activated by pressing the FN key located next to the right ALT key. They are however a fair distance from one another, which unfortunately means that unless you have long hands, these are two handed media functions, which I have never really liked.
Other functions let you control brightness, open up the calculator, or begin recording a macro. Lock lights are located just above the arrow keys, rather than in the top right as is most typical.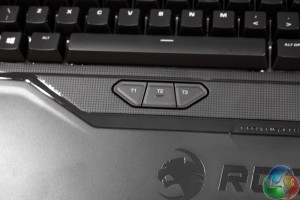 There are some extra macro keys located on the wrist rest, though these are not mechanical switches. At default, they let you cycle through single colour lighting options.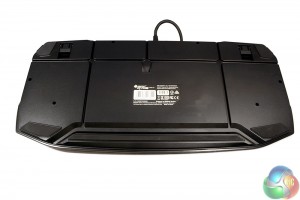 The back of the board features a cable routing channel, which lets you run the cable out at different angles much more easily.
There are several large rubber feet on the base of the board, which should make sure that it stays put on your desk. Better yet, the extender feet also have rubber coatings, so you are not losing out on that grip by using them, as is so common with other keyboards.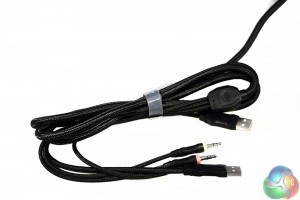 The cable itself is braided to a high quality, but ends in a pair of USB headers, so is thicker than usual. It also has a pair of 3.5mm connectors for headphone and microphone passthrough.