Testing the Ryos MK FX involved using it as our main office keyboard for a period of two weeks, whereby it was utilised for thousands of words of typing and web browsing. This being a gaming keyboard, I also tested it in a variety of titles from different genres. I also considered some of its additional functions such as media keys, macro recording and how customisable the backlighting is.
In regards to gaming, the Ryos MK FX is no surprise: it is great. With the Cherry MX brown switches, it behaves much in the way you would expect a mechanical gaming keyboard with a tactile, low-actuation-threshold switch to perform.
It is fast, you do not need to bottom out because you can feel the actuation point and that in turn means you end up putting less pressure on your fingers, as you do not need to hit the switch floor to know you have pressed the key.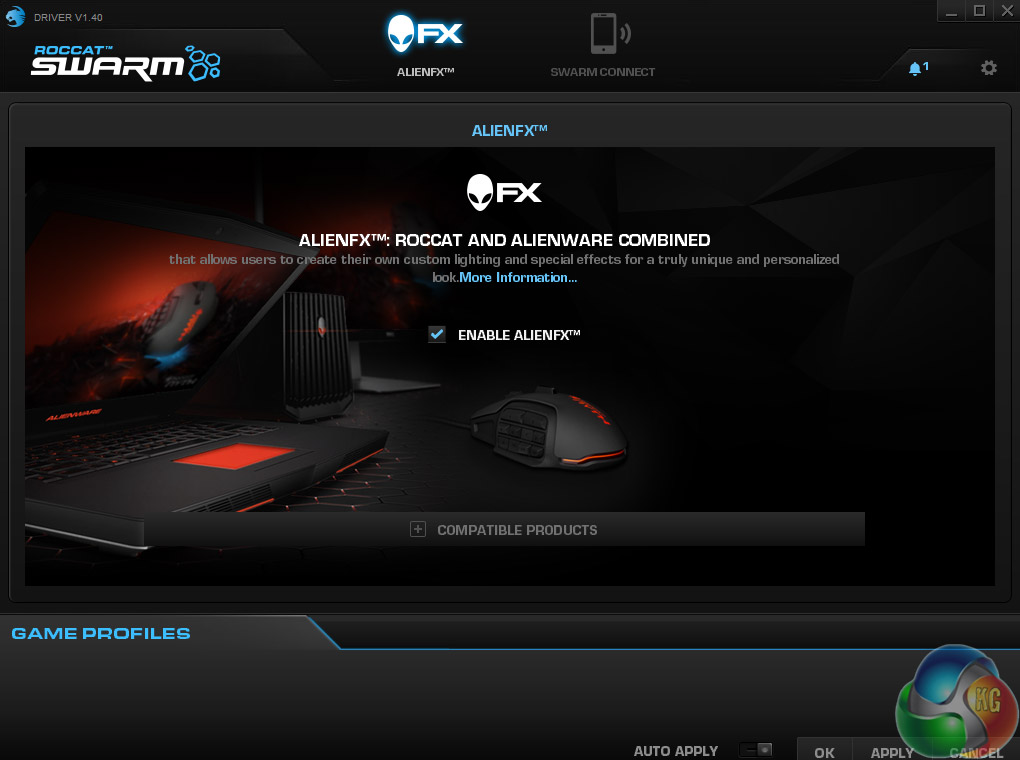 Even when you do however, Roccat's design seems to have a softer bottom to the switches than some boards, so you do not end up with sore finger tips if you are a particularly heavy handed gamer.
Other gaming features which are nice to see, include the anti-ghosting N-Key rollover, which makes it possible to press a number of keys at once and have them all register. This reviewer ran out of fingers before it stopped, but Roccat assures us you can press as many as 30 main-board keys at once before you run into problems.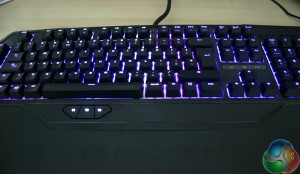 Macro switches are all within easy reach, which is good for those that like the odd shortcut to speed up play. Depending on which ones you pick for your commands, reaching them with your little finger might be a little difficult, but the M1-M5 switches are about as close as they can get without impacting the layout of the board.
That said the T1-T3 switches are also within reach for added functionality. The fact that they are not mechanical does make them less attractive to use, but as less regularly pressed switches, it is just good to have the extra functionality.
When it comes to more general usage and typing, the Ryos was also very pleasurable to use. I have personally tapped out 30,000+ words on this board since it arrived and it has not sent me wrong yet. Typing is fast and comfortable, and satisfying – as it almost always is with Cherry MX brown switches.
Save for close competition with the Steelseries custom switches on its Apex M800, Cherry MX Browns are by far my favourite and in this writer's opinion, offer the best interface for typists everywhere.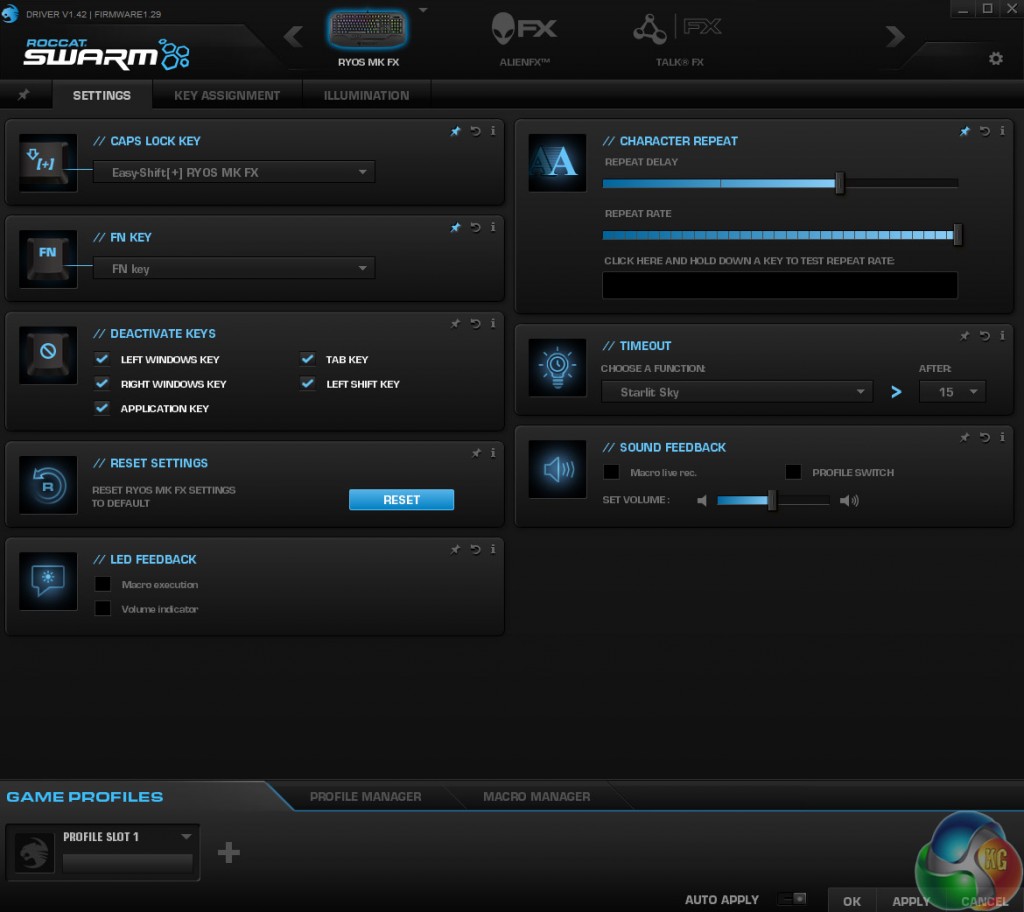 As I mentioned before too, this is a comfortable board to type on. However if you are very heavy handed and like to really hammer your keys, battering them into submission, it is good to know that Roccat has equipped the feet with super-glue-like grip. Unlike some boards which feature small, thin rubber strips which do not do a great job in holding the board in place, this one is going nowhere.
On top of that, it is particularly heavy and weighted evenly, so you do not get it turning around one side of the board as it slips around. This keyboard is sturdy and stationary no matter what you do.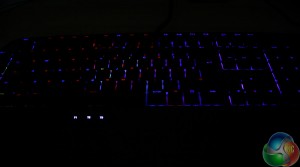 Lighting coverage is still not perfect, but it is not far off
I also enjoyed the expanded capability offered by Roccat's Easy Shift system. Roccat's keyboards replace the Capslock key with an EasyShift switch. When pressed, that activates a secondary mode for every key on the board. While most are at default mapped to their standard functions, this lets you essentially have double the use on the entire board.
It is a great function that lets you map not only a large number of additional functions to non-macro switches, but also lets you keep them within easy reach if you prefer. If you have secondary functions you would like in or out of game, you could have them set up on the WASD keys if you like – just use the EasyShift.
As much as I liked that added function though, I was not quite such a fan of the media keys. I prefer to be able to adjust volume and other aspects of whatever I am listening too with a single hand. Having to stop what I am doing entirely for adjustment makes it feel somewhat redundant having a whole shortcut for it.
A scroll wheel, or at the very least a function toggle within reach of the media keys would be great, but in this instance you either need to stretch your abnormally large hand across the entire board to change volume up or down, or use two hands – neither of which is particularly quick.
The back-end software on the other hand, Roccat's Swarm system, is very versatile. It features all of the major adjustable features you would expect from such a board: key remapping, repeat rate adjustments and backlighting tweaks, all in a very easy to understand manner. The interface is attractive and intuitive and you can even connect it up to your smartphone for added functionality and information on the go.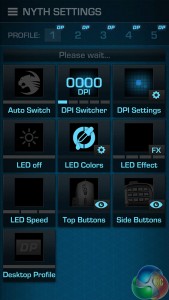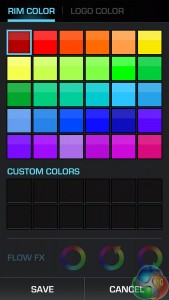 Although aimed at the Roccat Nyth, the android app is still useful for some tweaks
Remapping keys and building macros is nice and easy too, with deep options for both standard and easy shift functions. There are also a number of profiles, so the amount of possible mappings and functions on this board are almost second to none. There is no way you could run out of room for macros and custom settings.
Lighting wise I particularly liked the heatmap. This changed the intensity of the lighting and its colouring depending on how commonly you hit the keys. It is a great indicator that you are slacking when typing as it starts to fade to a cool blue. For people who like fancier options though, there are reactive, breathing, cycling and ripple effects and there are even some game-specific lighting set ups you can run using AlienFX.