When we reviewed the smaller version of this keyboard, the Roccat Ryos TKL Pro, back in the close of 2015 – we liked it, but there were a few issues. The MK FX fixes a lot of those problems and with the updated software in the back-end, Roccat has really nailed down a top-notch, RGB mechanical keyboard.
For starters, it uses Cherry MX Brown switches, which is always a major plus. This makes it good for gaming and general usage and typing over long periods. The switches have a comfortable travel and a surprisingly soft bottom, without feeling cushioned or spongy.

The board itself is sturdy and well built, making sure it will not move during usage and feels substantial – which is a nice addition for the money.
I still do not like the vast space between the media and function key and the additional T keys on the wrist rest are not of the same quality standard as the rest of the keys on the board, but those are the only negatives I could spot after several weeks of use.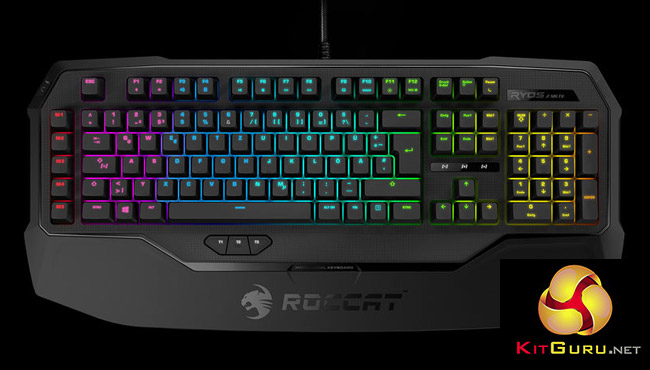 Backlighting coverage is improved with the white backdrop – though it is still not quite perfect on some keys – and the back end software has been vastly improved in the months since. It is more intuitive and the options are deeper and more varied.
On top of all that, the Ryos MK FX just looks good. Roccat's glossy/matt honeycomb design coating means you get a fancy look without fingerprints and the built in wrist rest gives it a squat, solid design which few other keyboard makers can match.
You can pick up the Roccat Ryos MK FX on Amazon now for £140.
Pros
Solid build quality, very sturdy.
Smudge free coating, glossy look.
Industry standard Cherry MX brown switches are great for gaming and typing.
Plenty of macro and remap options with Easyshift and dedicated keys.
Backlighting coverage improved by white undercoating. RGB lighting settings are broad.
Cons
Media keys still far too separated from the FN key.
T key switches are a far cry from the quality of the mechanical switch keys.
KitGuru Says: Although it is pricey, you get your money's worth with the Roccat Ryos MK FX. It fixes up almost all issues we had with its predecessors and maintains their strengths. This is a fantastic keyboard.