We have seen a sudden influx of RGB based products over the last few months. Corsair has launched a new line of peripherals, Razer swiftly followed suit with its Chroma lineup and now Logitech is jumping in with the Orion Spark G910 Mechanical Keyboard. Main features of this new keyboard include custom made mechanical switches, a second screen smartphone dock and of course – the fancy RGB lighting.
Cherry have dominated the market with their extensive range of mechanical key switches, so it is interesting to see that Logitech are now developing their own.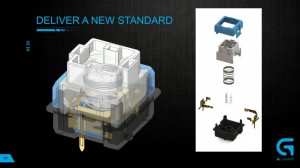 Logitech is promising faster actuation times and a longer life span with its new Romer-G switches. For more detail check out our Logitech's G Labs in Switzerland editorial – you can read that over here.
Features:
Romer-G Mechanical keys with up to 25 percent faster actuation.
RGB lighting.
ARX Control integration.
Arx Dock.
Media Functions.
9 programmable G keys.