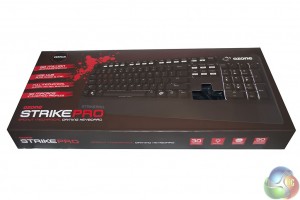 As with most keyboards, the Ozone Strike Pro doesn't come in any form of special packaging. It comes in a long box, protected by a plastic shield with a cut out for the arrow keys so that shoppers can test the key switches before buying.
However, the box is quite eye catching, with its reddish tint, distinct logo and red splatter.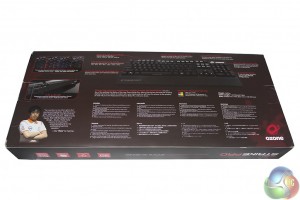 The back of the box talks through the keyboard's many features, including its single USB 2.0 port and audio inputs for a headset and microphone. This keyboard is only compatible with Windows, which you would expect since it is aimed primarily at gamers.
Although, Steam has shown that the gaming market is growing on Linux and Mac so the extra compatibility would have been nice.
Much like the Ozone Onda Pro headset, the Strike Pro keyboard also has a little quote, this time it comes from the eSports athlete, Cho "Mata" Se-hyeong who says that "there is no other option but the new Ozone Strike Pro"-  for him at least.
The keyboard itself comes with a pre-attached wrist wrest but you will struggle to actually use it as it is a bit too short, for the most part your wrists will actually be on the desk. However, the body of the keyboard does have a slightly rubberized finish to it, which I quite liked.
As you can see, the Ozone Strike Pro does feature a lengthy, braided USB cable, which is a nice touch- I would like to see braided cables used in products more often.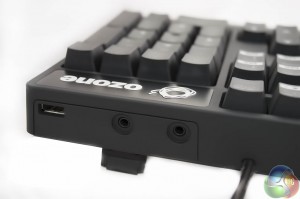 The keyboard does come with a USB 2.0 port along with a headphone and microphone input. These extra ports will come in handy if you use a headset often.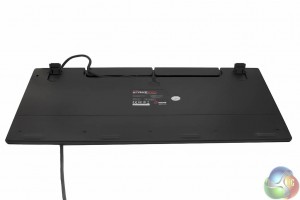 On the back of the keyboard you'll find a cable management slot along with some keyboard feet. The feet are coated in rubber to stop the keyboard from sliding around, the only downside is that it will attract a lot of dust.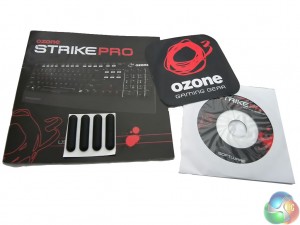 Inside the box, you'll get some extra rubber stubs to stick on, a little manual and a mini disc containing the keyboard driver. We would like to see a key removal tool included with future keyboards.