If you have come across a KitGuru peripheral review before, then you know that we like to take a 'real world' testing approach. Building up to this review, the Cooler Master MasterPulse Pro has been my main headset over the last couple of weeks. In that time I have used it extensively for gaming, general content consumption and even communication with friends over Discord.
Coming to grips with the headset is as easy as possible because it does not come with any accompanying software. All of the tweaks you need are built into the in-line soundcard so it is as simple as plugging the headset in and then making any adjustments on the fly. The in-line controls have your standard microphone mute and volume controls but there are some more in-depth functions too.

Firstly I would like to talk about the EQ functions. There are three EQ profiles you can choose from and since there is no software to differentiate each one, there is a light on the in-line control box that will tell you which profile is currently running.
The red light is for the music profile, which boosts lower sound frequencies. The blue light represents the movie profile, which has a bit of a compression effect. In my experience, I found that this helped make dialogue a bit clearer to hear. The purple light represents the gaming profile, which reduces bass but accentuates mid to high tones.
You also have the option to just leave any EQ functions off. Personally out of all three of the EQ profiles, I found the movie one to be the best performer all-around.
The music profile boosts the bass a little too much for my personal taste. I found that it muddied up the sound, even with the Bass FX feature off. The gaming profile creates the illusion of a wider sound stage but I found that it made voices sound fairly unnatural and shrill in some cases, so it wasn't great for games with lots of voice acting.
However, the movie profile seemed to find a nice middle ground between these two, making it suitable for multiple use cases, including gaming, VOIP, movies or even podcasts. That said, I did spend a lot of my listening time with the EQ switched off as I found the 44mm drivers capable of producing a decent, well-rounded sound on their own.
Speaking of the drivers, they are more than capable of pushing high amounts of volume. After plugging this headset in, I found myself having to turn Windows system audio down quite a bit in order to listen at a comfortable volume.
While I didn't always use the EQ, I did play around with the 7.1 virtual surround sound fairly often while gaming – specifically in PvP titles like Battlefield 1, Counter-Strike and H1Z1: King of the Kill. Being able to pick out the direction the action is coming from does provide a bit of an edge, particularly in Counter-Strike, where you may be the last one standing on your team.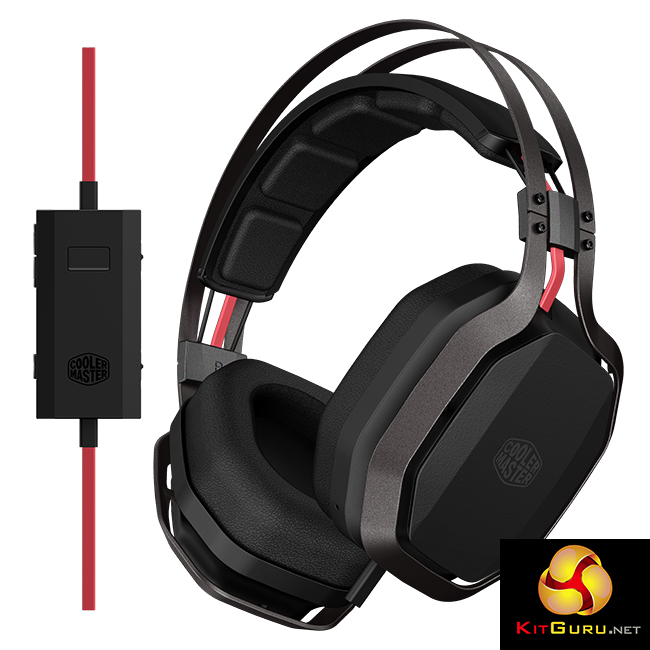 Honestly, I like this headset a lot. So far, I have found the sound quality to be somewhat superior to other gaming headsets I've tried recently, including the tried and true Kingston HyperX Cloud II's, though the MasterPulse Pro does hit a more expensive price point. That said, I have found a couple of drawbacks during my use.
The Bass FX feature is nice but I preferred to leave the ear cup covers on for a tighter, more isolated sound. I also found that during conversations on Skype and Discord, leaving the headphone backs off would cause the hidden microphone to pick up on the sound leakage slightly.
While we are on the subject of the microphone, it's not great. It works fine, and feedback noise isn't really something you need to worry about, but it will pick up the sound of your keyboard easily and your voice will lose some of its fidelity when picked up by the microphone. It's not an awful microphone, but compared to the excellent sound quality of the headphones, it is a bit of a letdown.
There are two final things left to cover in this review- the RGB lighting and comfort, so let's get into it. First up, the lights:
You aren't going to see these lights yourself most of the time because the headset is going to be on your head, obviously. That said, the logo does look nice while lit up and I found colour representation to be quite solid. It's not a massive selling point but it is a nice feature nonetheless.
As for comfort, I wore the MasterPulse Pro for hours upon hours at a time. I work from home and I normally like to keep my headphones on even when I'm not actually listening to anything just out of habit. At first, the clamping pressure felt a little too tight, but after a day or two, the headset seemed to 'break in' and suddenly it was fine to wear for long periods.
I didn't experience any headaches, even while wearing my glasses at the time and the leather cushioning on the ear pads was a nice touch. The ear pads are quite large too, so there was plenty of room for my ears with the headset on. Honestly, I don't see many people running into any comfort issues with this headset at all.