ASUS and Acer stunned the display market last month when they placed the world's first 4K/144Hz monitors up for pre-order for an eye-watering $2000 each. Unfortunately, it looks as though the range of monitors can't actually hit 144Hz at full resolution without suffering in quality due to hardware limitations.
Multiple reports have hit the web since ASUS and Acer gave hands on experience with their PG27UQ and X27 4K 144Hz monitors, revealing that the displays seem to look noticeably worse when breaching 120Hz – The current limitation of DisplayPort 1.4. To circumvent the restrictions, the companies utilise "4:2:2 chroma subsampling" to deliver the headline feature, which unfortunately brings with it a softer, blurrier image.
While ordinary monitors use non-subsampled resolution at RGB 4:4:4, chroma subsampling compresses the image and partially reduces the resolution. The practice is often used in film and television, helping to reduce the bandwidth for transmission and storage, while a higher standard is expected from PC display manufacturers, leading to the feature often not appearing in most monitors.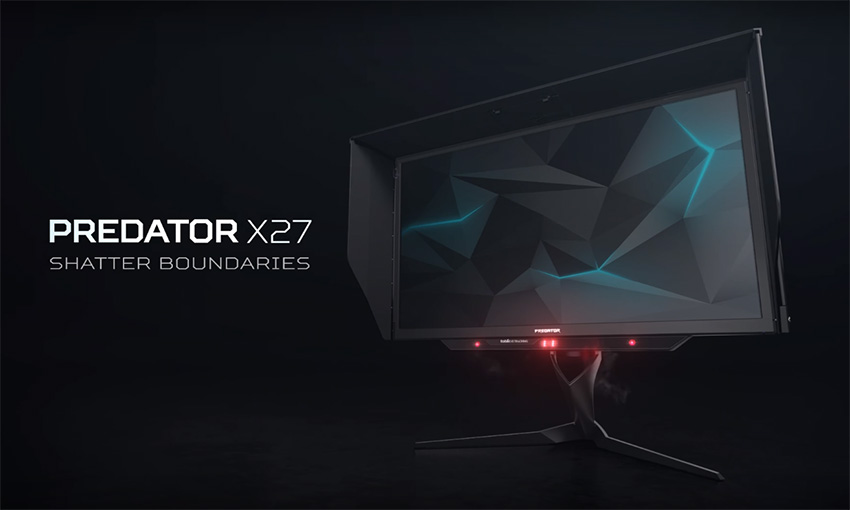 DisplayPort 1.4 master specifications have been floating around for over two years, making it all the more surprising how the use of chroma subsampling could have flown under the radar. Redditor Glennwing mentions that the use of G-Sync might also be a contributing factor to the limitations. Nvidia's exclusive hardware forces manufacturers into using its proprietary display controllers, which are often "behind on interface support and very barebones in feature support," which strong-arms display makers to make sacrifices.
Despite this, Glennwing agrees that it is the fault of ASUS and Acer not to fully clarify the use of chroma subsampling, or better yet marketing the displays as 4K/120Hz, which would have topped current offerings that have been suffering from limitations of their own.
Considering the successor to DisplayPort 1.4 has been expected for quite some time, it's possible that the expected higher bandwidth of the tentatively titled DisplayPort 1.5 will push true 4K/144Hz when it's available, although given that both the PG27UQ and X27 4K 144Hz are among the first monitors to house DisplayPort 1.4 two years after the announcement of its master specifications, it could be a while longer until we see the tech implemented into commercially available monitors.
KitGuru Says: In that respect, it's difficult to justify $2000 on a monitor that doesn't quite do what it says on the box. Luckily, this targets quite a niche market given the PC specifications that would be required to run most modern games at 4K/144Hz, meaning very few would have been caught off guard by the reveal. How do you feel about the use of chroma subsampling?