The OSD for the XB280HK looks almost identical to other Acer monitors, including the S277HK display (review HERE) we reviewed recently.


It's controlled by any of the five buttons to the left of the power LED at the front of the XB280HK. Pressing any one of them brings up a main menu of five shortcuts. The function of each then naturally corresponds to the icon above it
When there's a menu to navigate, controls to move left and right or up and down are indicated, as well as to move back and forward through the screens.


The left-most option shows the Colour Mode, with settings for 'Standard', 'Graphics', 'Eco', 'Movie' and 'User' presets.


The next option is a simple brightness control, and next to it, a motion blur control.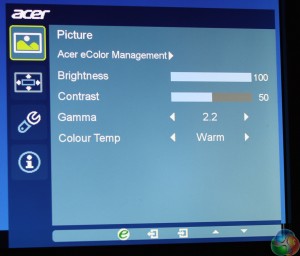 The last option is a menu of advanced settings, which defaults to a picture control mode. Here there are further settings for the display brightness, contrast, gamma and temperature.
The default brightness value is 100 and the default contrast is 50.
There are four gamma settings: 1.9, 2.2 (the default), 2.5 and a setting called 'gaming'.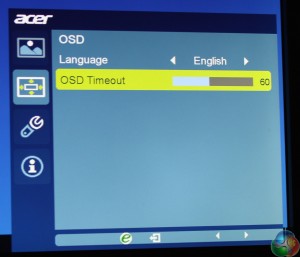 There are settings for the OSD language and timeout.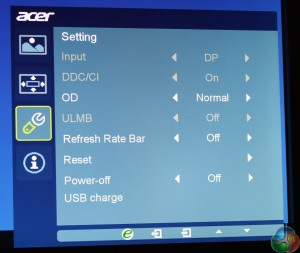 And settings for the hardware, with a 'Refresh Rate Bar' which shows a red bar that moves up and down on the side of the screen. When in G-Sync mode, this accurately displays your monitor frame rate (since the refresh rate is linked to the frame rate). It can be set to either 4 or 8 pixels wide.
There's also an Overdrive setting (we left this set to Normal), DDC/CI support and an option to power USB devices even when the monitor is turned off.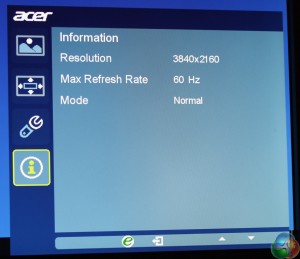 The last page shows the refresh rate, resolution and graphics mode.