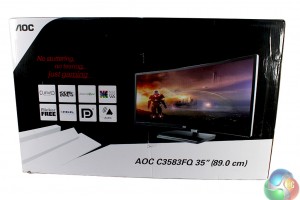 The packaging outlines the main product features – a flicker-free panel, DisplayPort support, a 144Hz default refresh rate and a VA screen.
You might notice the AMD FreeSync logo is missing from the box. Manufacturers are now choosing to use more generic terms to describe it, in this case, as "Adaptive Sync" but it does indeed mean the same thing.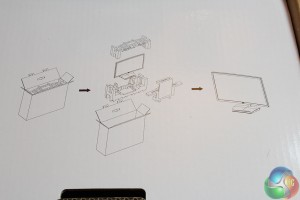 Unlike the majority of other displays we see, the stand and screen are attached together for shipping, so there is no need to assemble them before use. The AOC C383FQ has to be packaged differently then, lifted vertically from the box.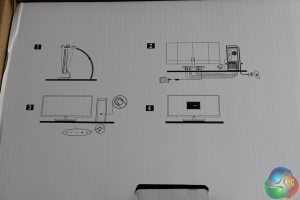 AOC has seen fit to include instructions on the packaging.
There are HDMI and DisplayPort cables included , a power pack with a cloverleaf adapter and both EU and UK power leads, a software CD and cleaning cloth.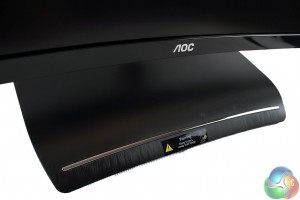 The base of the stand is made from plastic, with a grooved pattern covering it that looks almost metallic (it is definitely plastic though).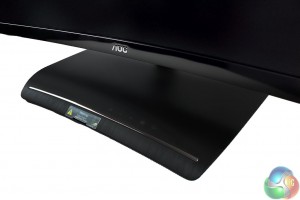 The base is also home to five touch-sensitive buttons used to control the on-screen display.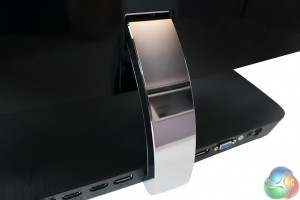 Similarly, while the stand looks like it's a strong, reflective chunk of solid metal, it's actually plastic.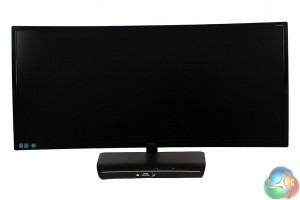 The chassis and bezel use a glossy black plastic, favoured by more than a few affordable displays. It's not our first choice, as it tends to make dust and fingerprints all the more obvious, but it doesn't get in the way of the image quality at all.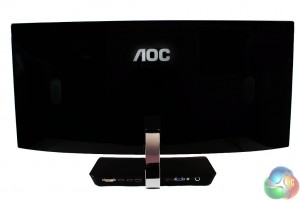 From the rear you can see all the ports are located in an easily accessible spot, right behind the stand, so they're much easier to reach than on most displays. There are also two speakers on either side.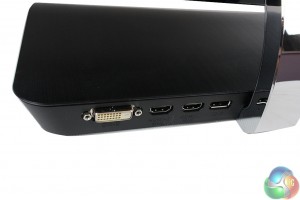 On the left side are two HDMI ports, DVI and one DisplayPort connector.

 Note there are no USB ports included.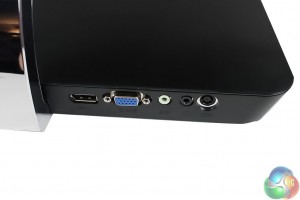 And on the right side is another DisplayPort connector, VGA and audio input and output.
Placing buttons and ports in the base of a monitor seems to be a logical choice, making them easily accessible, but this does preclude the AOC C3583FQ from VESA mounting, as the stand cannot be removed.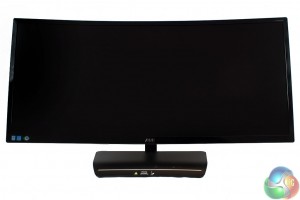 The screen's degrees of motion are fairly rigid. It cannot be rotated or raised up and down but it does tilt backwards.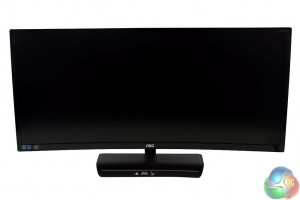 …and forwards.