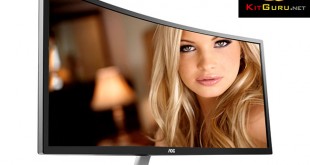 Behind an unassuming name, the 35-inch AOC C3583FQ is a curved monitor that's certain to be of interest to anyone who wants an ultra-wide display for gaming, without the budget to stretch to the high-end models. It's the most affordable 21:9 screen we've yet seen, the refresh rate goes up to 160Hz, and perhaps most importantly, it has a really bright AMVA display that offers great IPS-like picture quality.
After many of our recent reviews of high-end displays, many readers have commented about the pricing. With some costing £1000 or more, you might end up spending as much on a display as you do on the rest of the PC.
What's more, the term 'G-Sync tax' has come up a few times, and there is some truth behind it. The G-Sync hardware, for adaptive-sync support with Nvidia graphics cards, seems to inflate the price of monitors in a way that hardware for AMD cards does not.
We're guessing it's not price gouging on the part of any single manufacturer, since G-Sync displays seem to be more expensive across the board, so we presume the hardware is more complicated and has a higher wholesale cost. We do hope it becomes cheaper in time.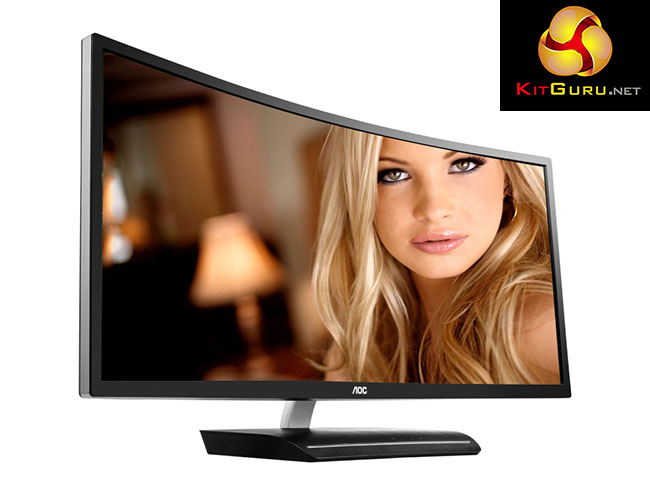 But if you still desire a 21:9 gaming display, you're not forced to have G-Sync. The standard 60Hz screens still work fine with games, and any that offer a refresh rate beyond that will still have much smoother animation than you might be used to on a standard display, whether you have an Nvidia or AMD graphics card.
Of course, if you use AMD cards, it'll be the FreeSync screens you want anyway, but this adaptive-sync technology doesn't work in the same way as G-Sync. G-Sync is either on or off, and it doesn't matter what frame rate you're getting.
FreeSync works within a range, usually from around 35-45Hz up to the display's maximum refresh rate. If your frame rate drops below that range, it'll work like a standard display.
Enter AOC's C3583FQ, an ultra-wide display with a 4ms refresh rate and a 2000R curvature, that has the potential to appeal to both AMD and Nvidia users alike with its 160Hz overclocked refresh rate, along with FreeSync support.
It has a maximum resolution of 2,560 x 1,080 and uses a VA panel. This sounds remarkably similar to the Acer Predator Z35 ultra-wide gaming display (Review HERE) which has the same native resolution along with G-Sync and a whopping 200Hz refresh rate, not to mention a much better physical design. Ultimately, given the high price, we found this screen somewhat disappointing, particularly in terms of its picture quality, which lacks the impressive brightness and razor sharp colours of most IPS displays.
The C3583FQ is slightly different though. It shares the same 2,560 x 1,080 resolution as the Z35, which is a bit on the large side compared with the more typical 3,440 x 1,440 on other 34-inch screens. And it's also a VA panel, albeit the more advanced AMVA variant. Most VA panels haven't blown us away with their picture quality so far, with a washed-out look, despite the excellent black levels. The AOC C3583FQ is of interest then, to see how it stacks up against the competition.
Additionally, the AOC C3583FQ has a serious price advantage over every other 21:9 curved screen on the market, coming in under £600.
This is a 35-inch display with adaptive-sync technology and a 160Hz refresh rate that costs less than most 60Hz ultra-wide displays. It's almost half the price of Asus' PG348Q (Review HERE) and significantly cheaper than the aforementioned Acer Predator Z35. AOC informed us before publishing that UK pricing will be around £550 inc vat.
That makes it worth a look at the very least, and potentially one of the most affordable ways to enjoy 21:9 widescreen gaming.
Specification:
Screen size: 35-inch
Native resolution: 2,560 x 1,080
Refresh rate: 160Hz
Response time: 4ms
Panel type: AMVA
Display inputs: 2x HDMI, 2x DisplayPort, 1x DVI, 1x VGA
USB hub: none
Tilt: yes
Raise: no
Swivel: no
Other: FreeSync (45Hz-160Hz)