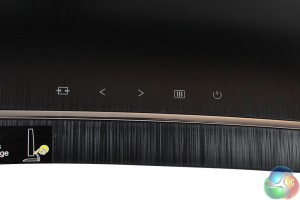 There are five touch sensitive buttons on the base of the display. On the far right is a simple power button. The arrows either move through menu options or provide shortcuts to various monitor functions.
The first button on the left switches inputs, the second button switches between game mode presets, the third is a volume control and the fourth brings up the main menu. It's pretty much the same on all AOC products.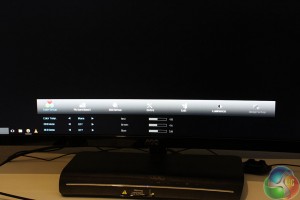 Note that game mode is not the same as picture mode. The game mode adjusts the brightness and contrast as well as the overdrive setting.
The Color Setup menu gives a simple temperature control and DCB mode. In user mode you get access to the RGB levels.

The Luminance many lets you change the picture mode, with brightness and contrast controls, overdrive, gamma and a feature called shadow control.
The Picture Boost menu can be safely ignored as it mainly controls a feature called Bright Frame, which is fairly useless.

The OSD setup menu has a few settings for the OSD timeout, transparency, DisplayPort setting (leave it on 1.2) and the amusing break reminder function, which reminds you to stretch your legs after prolonged periods of use.

The Extra menu lets you reset the settings, change input and set the power off timer. It also displays the current refresh rate.