As with all display reviews, testing comprises both hands-on use and objective analysis using a Datacolor Spyder Elite 5 colorimeter. During hands-on use we use a screen for gaming, at its maximum refresh rate, long with desktop work and movie watching.
The colorimeter results are interesting. VA screens usually present contrast levels you never see with an IPS screen, and general picture quality that seems washed out. The AOC C3583FQ is completely different. It's far more like an IPS screen from both our tests and from seeing it in person.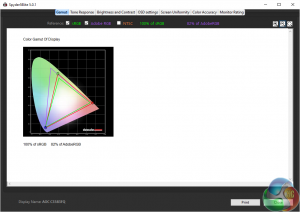 Full sRGB coverage and 82% AdobeRGB, a smidgeon higher than the majority of IPS displays.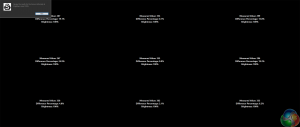 The brightness distribution isn't very good at the top, with roughly a 20% deviation, and almost 25% on the left. If this was a display for graphic designers, that would be a serious black mark, but we can forgive AOC with a general-purpose display such as this.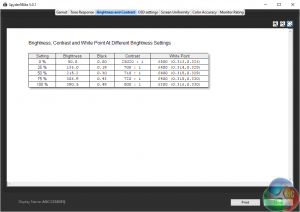 The brightness and contrast levels make up for it. While it's not achieving the 2000:1 quoted contrast or the levels seen in other VA screens, 800:1 is still very impressive. And the maximum brightness of 390 cd/m2 when set to 100% is higher than most screens. The white point is slightly below the 6500K target.
As we've shown from the last screenshot, brightness really deviates around the panel, but the effect is still a clear image without the washed-out look of other VA displays.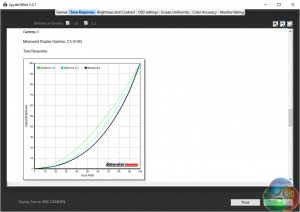 AOC's three gamma settings are spot on at 2.2, 2.5 and 1.9.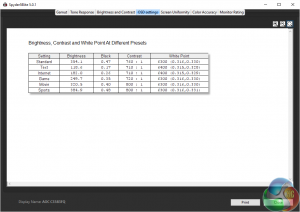 The OSD image presets (which are seperate from the gaming presets) adjust the brightness and contrast levels. This is the same with pretty much all AOC screens.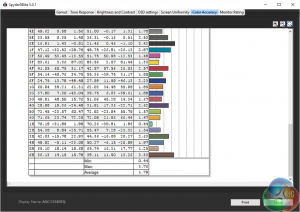 The AOC C3583FQ features an uncalibrated colour accuracy of 1.79 Delta E. A very good result, showing VA screens can be as accurate as any other.
After calibration the results looks just about identical.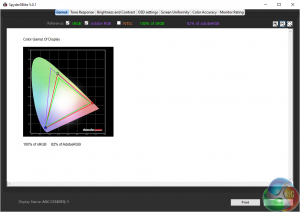 Nothing changes with the gamut, with the same good 82% AdobeRGB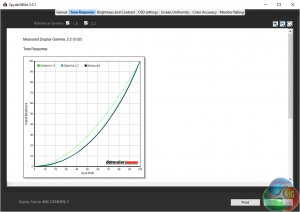 The gamma remains on 2.2.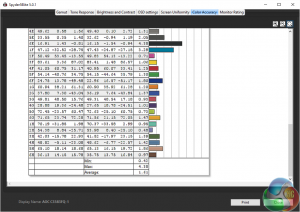 And the colour accuracy hovers around the same 1.7 mark.
We used both Battlefield 4 and Counter-Strike: Global Operations to test the gaming capabilities of the AOC C3583FQ. In the case of the latter, with the Sapphire Vapor-X R9 290X card, we were seeing frame rates of 290fps, well over the 160Hz refresh rate of the screen.
With both games, the effect wasn't quite as smooth as the animation on a G-Sync screen, but it's still an improvement over standard 60Hz screens. Oddly, it felt more noticeable in Battlefield 4, at a lower frame rate.
The audio is perfectly reasonable quality at low to mid volume, but crank the sound up and prepare for slight hearing loss as the high notes sound like a screeching cat. We suggest external speakers if you want volume.