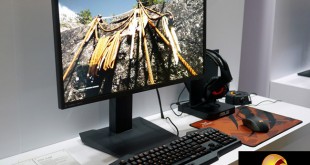 The Asus MG279Q is a 27-inch AHVA In-Plane Switching 144Hz monitor that supports AMD FreeSync technology for stutter and tearing-free gaming. With a flicker-free WQHD (2560×1440) panel, a 4ms response time, 178 degree viewing angle, and a quoted specification that includes 350-nit brightness and 1000:1 contrast ratio, plus 100 per cent sRGB coverage, the MG279Q could have everything it takes to be a display that's great for both gaming and non gaming use.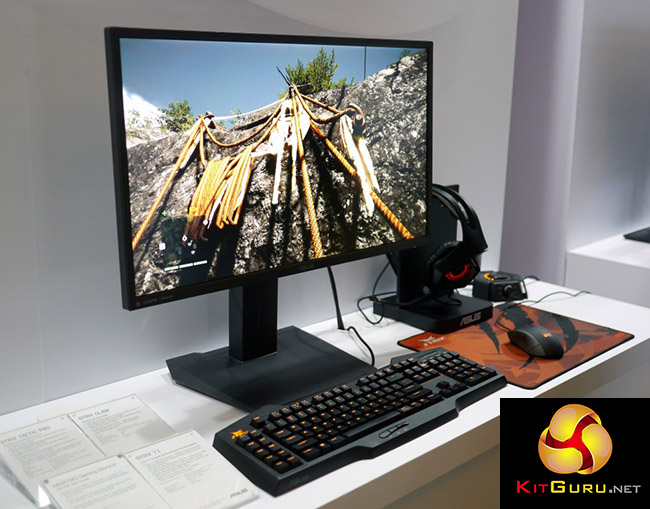 In a perfect world, we'd have a display that offered every single one of the latest technologies without any restrictions. Our wish list includes adaptive-sync technology that works perfectly at a wide range of frequencies (regardless of GPU vendor), an IPS panel for great luminance and viewing angles, but with an ultra-low response time. How about 4K resolution, great colour reproduction, a wide range of inputs and maybe a curved screen as well, and while we're at it, perhaps make it OLED, not IPS.
But we don't live in a perfect world, and while such a screen may one day be possible, for now, manufacturers face various issues that make it impossible to bring such a dream display to market.
The biggest issue with OLED technology is (still) cost, and while IPS displays look really good, they simply can't hit the ultra quick refresh rates offered by TN panels, making ghosting more noticeable.

Both competing adaptive-sync technologies (G-Sync for Nvidia cards, FreeSync for AMD) currently have a few limitations of their own. For starters, the vendor lock-in is an issue. If you have an Nvidia card and a G-Sync display (or vice versa), jumping ship to a different GPU vendor at a later date means you wont be able to use your display in adaptive-sync mode any more, although it will still work normally of course.
Nvidia's G-Sync module introduces another limitation – it currently only supports a single DisplayPort input, so on many models, you can't connect an HDMI device, or a secondary PC. There are some exceptions however.
FreeSync also has limitations. The range of FreeSync frequencies supported by most current displays is narrower than with G-Sync, from 40Hz to 144Hz, rather than 30Hz to 144Hz. That means that if your in-game frame rate drops below 40 FPS, your display's refresh will no longer be locked to your graphics card, and you won't see the FreeSync effect any more. Notably, as of writing, FreeSync does not work with Crossfire multi-GPU setups either (although support is promised in a future AMD driver release).
Neither technology is perfect then. It's also worth mentioning the overwhelming majority of adaptive-sync displays are based on TN panels rather than IPS.
Apparently, IPS simply cannot currently offer a 144Hz adaptive-refresh rate. There aren't many IPS FreeSync displays on the market, but one in particular, LG's 34UM67, a 21:9 ultra-wide IPS display, only offers FreeSync between 48Hz and 75Hz.
Asus has had to work within these restrictions when designing the MG279Q, and has done a great job of mitigating some of them. Firstly, although they've chosen an IPS panel, the FreeSync frequency range it supports is better than competitors. In FreeSync mode it goes from 35Hz up to 90Hz – quite an improvement on LG's 34UM67, for example.


The improvement at the lower bound could be more useful. If you're running a demanding modern game (think Grand Theft Auto V or The Witcher III for instance) at the display's WQHD native resolution at the highest detail with anti aliasing turned on, a real monster rig is needed for frame rates above 90fps. Although it depends on your settings, there's a good chance it will drop below 40fps in some scenes.
Less demanding games will have no problem hitting 90fps though, and some people will turn a game's detail settings down to enjoy high frame rates. Others do indeed have a PC capable of running today's games at these resolutions with high image quality settings and great frame rates. For the vast majority of users though, it's the improvement at the lower bound that will make a difference. In theory at least.
Bear in mind, outside of FreeSync mode, the MG279Q still goes all the way up to 144Hz, which means the display and GPU are not synchronised. In games you may still see some tearing, but it's still better than a standard 60Hz display that resorts to V-Sync above 60fps. And in this way it will work with Nvidia cards all the way up to 144Hz as well.
While it's an IPS display, it has a 4ms refresh rate, which is just about as good as it gets. It also has a wide range of display inputs and a few features borrowed from Asus's flagship G-Sync display, the ROG Swift PG278Q, such as a navigation joystick and a stand that supports pivot and height adjustment.
Asus MG279Q features:
27-inch, WQHD 2560 x 1440 resolution display with IPS technology provides wide-viewing angles, and clear, vivid visuals
144Hz refresh rate and AMD FreeSync™ technology for seamless visuals and smooth gameplay.
ASUS-exclusive Ultra-Low Blue Light, Flicker-Free, GamePlus, and GameVisual technologies provide a comfortable gaming experience.
Ergonomically-designed stand with full tilt, swivel, pivot, and height adjustment for comfortable viewing position.