As usual we relied on a Spyder4 Colorimeter to gauge the colour reproduction, brightness, contrast and panel uniformity of the BenQ GW2765HT.
Before running the tests, we reset the display to its default settings. We tested the display before calibration, for an accurate assertion of what to expect from its out-of-the-box performance. We then calibrated it.

In addition we spent some time using the display for a subjective view of image quality and gaming performance. It scored highly here. Images and movies looked good, while gaming in Battlefield 4 produced no glaringly obvious signs of ghosting .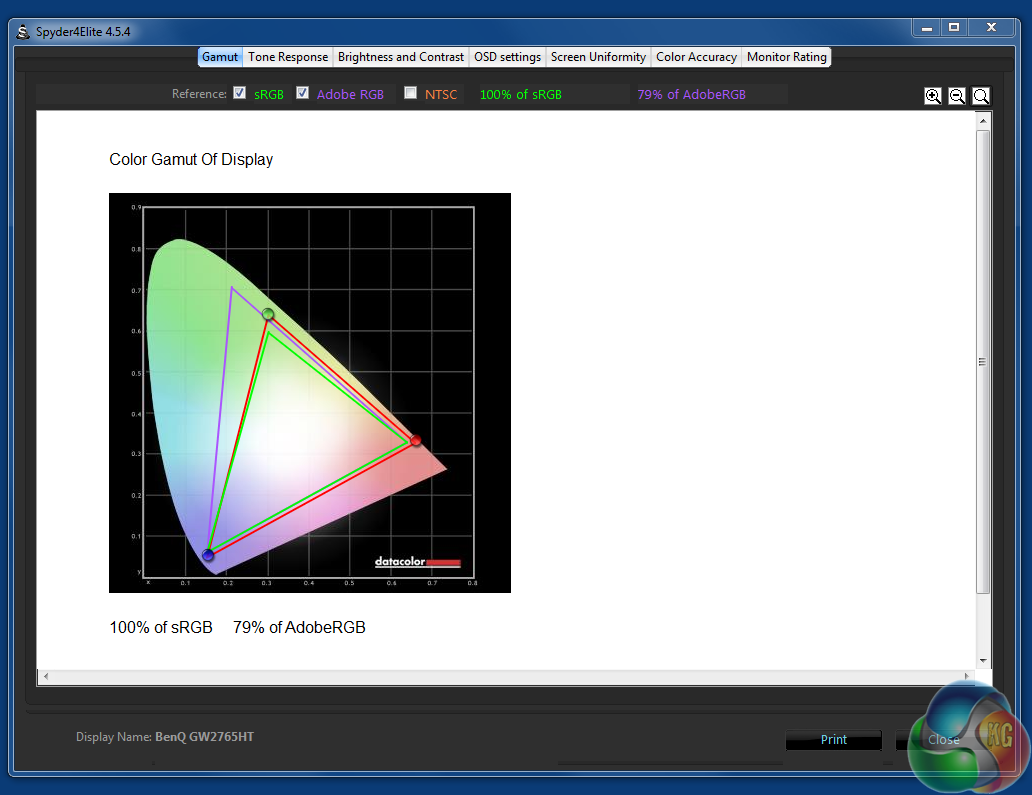 The first test is the colour gamut, which comes out as 100 per cent sRGB and 79 per cent AdobeRGB. A great result and to be expected from a 10-bit panel. But we should mention that we've seen similarly great results in this test from other displays at similarly affordable prices.
100 per cent sRGB used to really separate the men from the boys with PC displays, and few could attain such a wide gamut. If you wanted colour accuracy, you had to pay through the nose for it. It now seems panel technology has seriously improved though.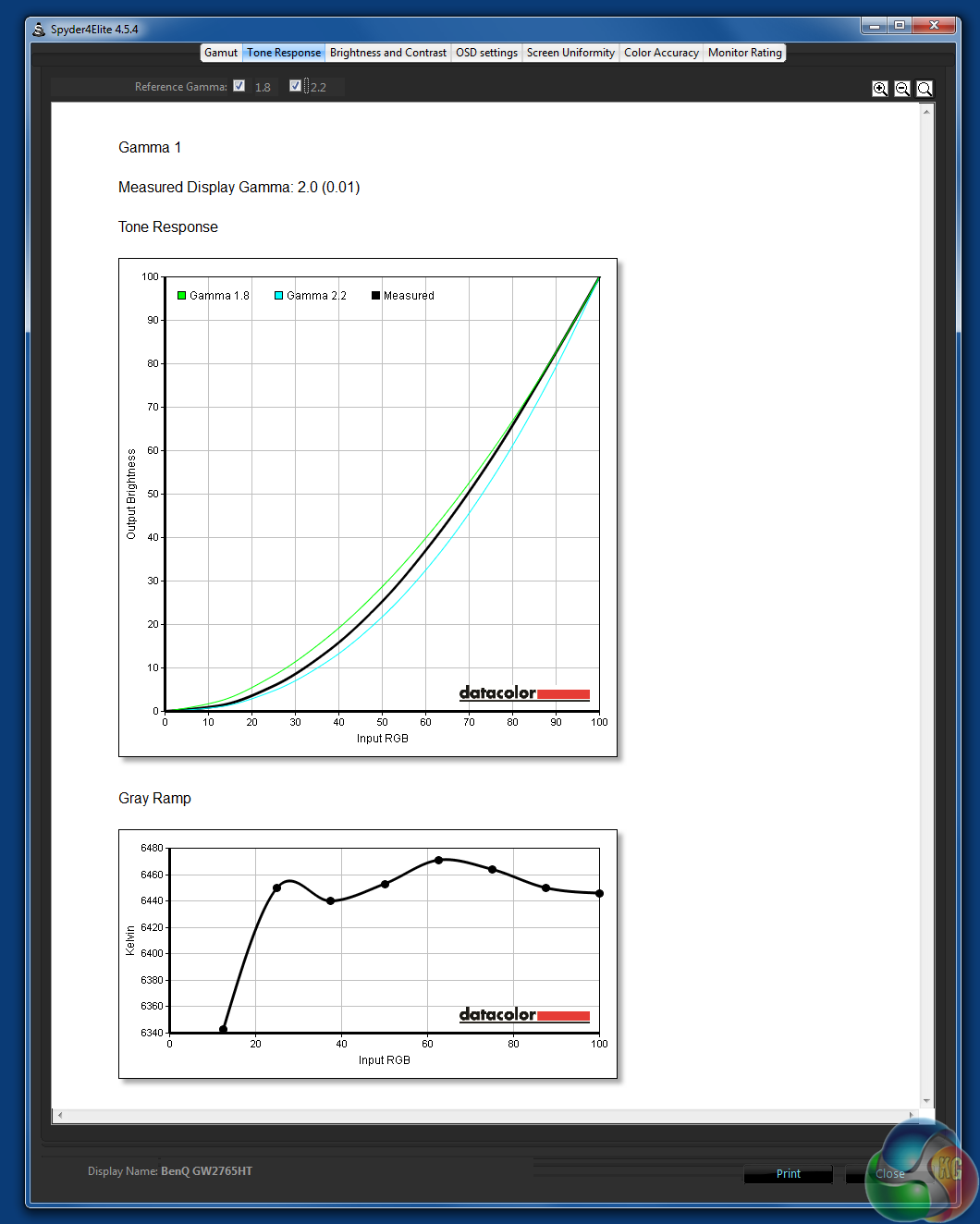 The default gamma setting (3 in the menu) came up as 2.0 during testing.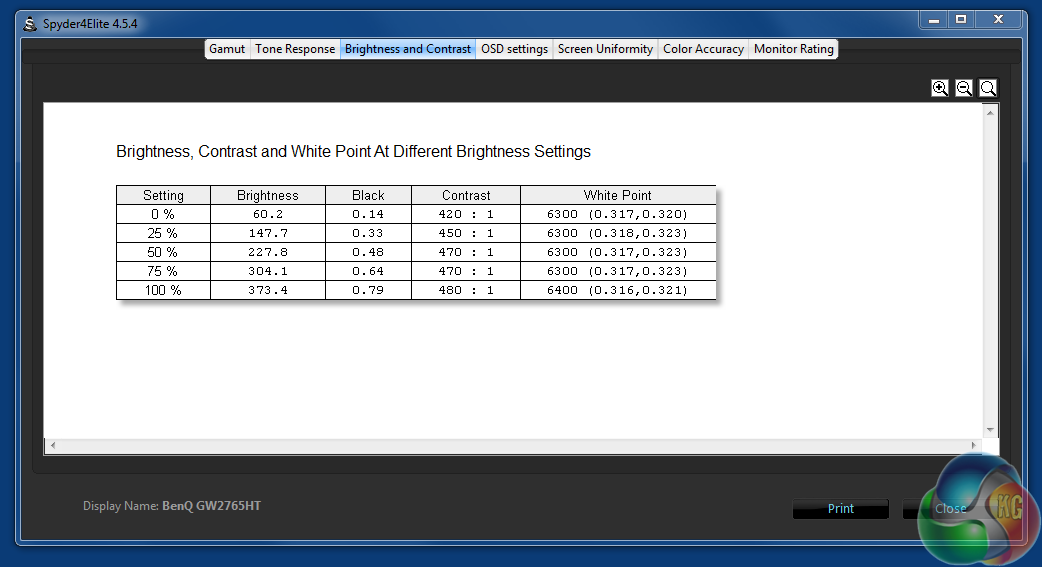 Next up are the brightness and contrast. With 373 nits, the brightness exceeds BenQ's quoted figure of 350 nits, but the contrast result of 480:1 is disappointingly on the low side. We've seen some displays hit 600:1 in this test.
But to make up for it, the white point of 6400k is close to the 6500k target, and the black point of 0.79 is more than adequate.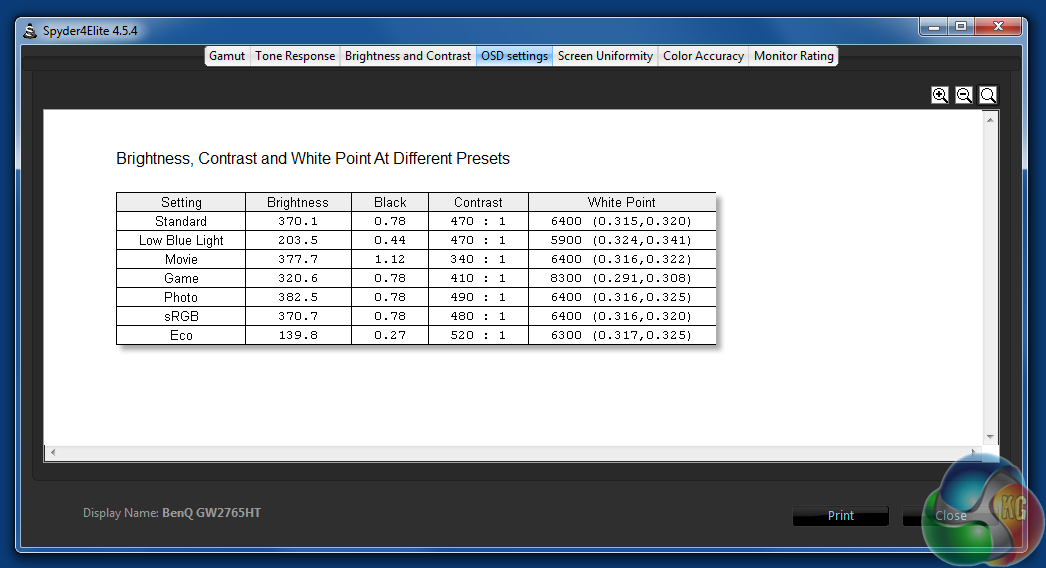 You can get an idea for what each preset mode looks like from this chart. 'Low Blue Light' and 'Eco' modes are obviously less bright than the others, while the 'Game' mode really raises the white point. In use, that mode seems a little too blue for our liking.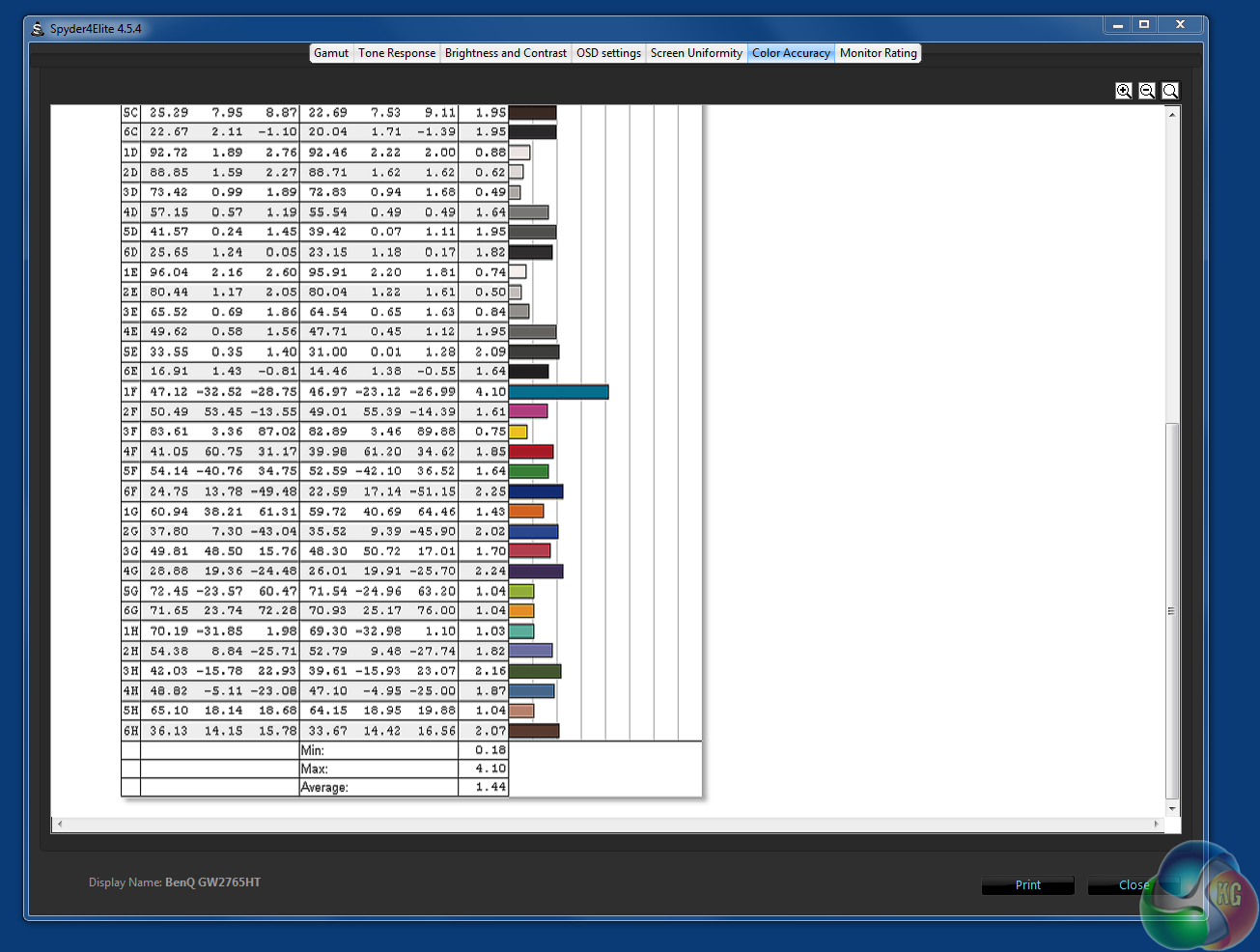 The average DeltaE result under 2 is an excellent score, showing great reproduction out of the box. While not the very best result we've seen, it's nothing to complain about.
We also measured the brightness uniformity, which was much better than many other displays. The highest deviation was at the top where it was between 6.9 and 10.9 per cent less bright, but at the bottom it was surprisingly even, with between just 0.3 and 4.3 per cent difference. Good to see.
We then calibrated the display using the Spyder4 Elite software. It made a small difference to the picture quality, slightly reducing the visible brightness and enhancing the colours, although our results don't really show it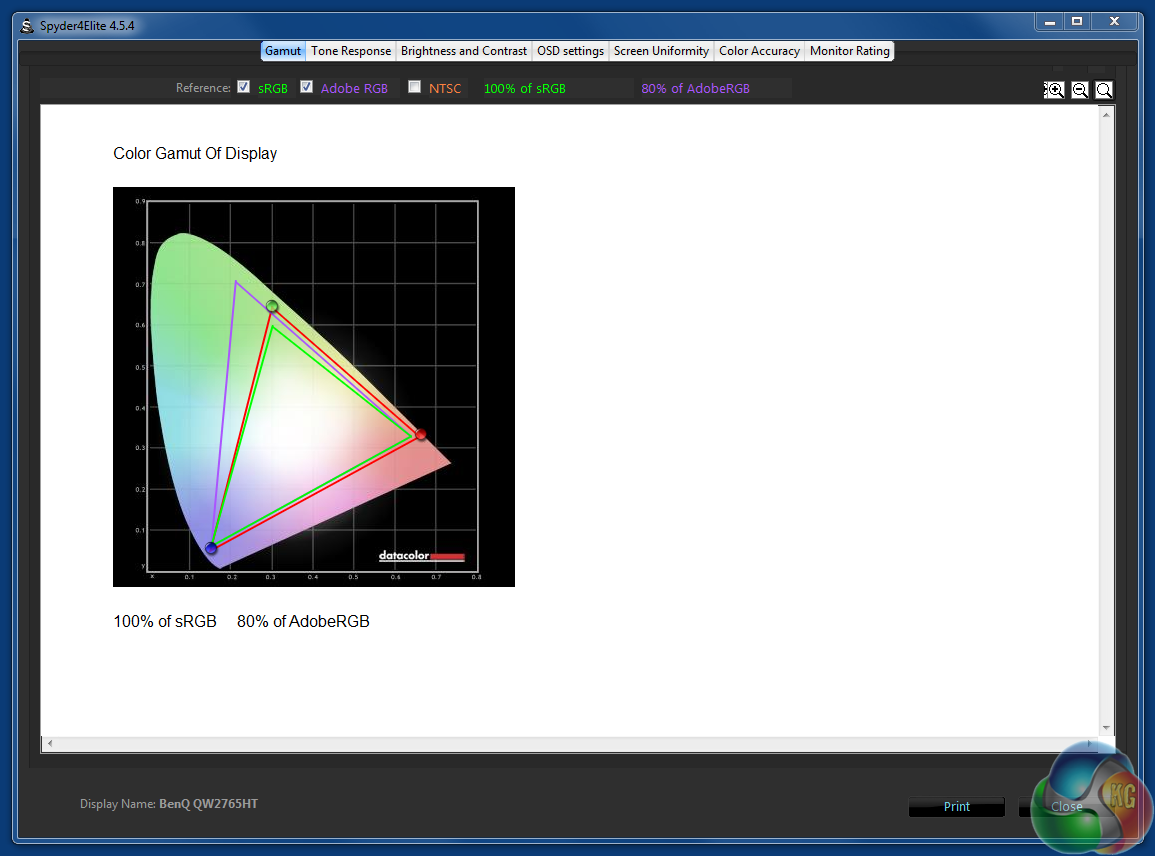 The sRGB coverage and Adobe coverage are mostly unchanged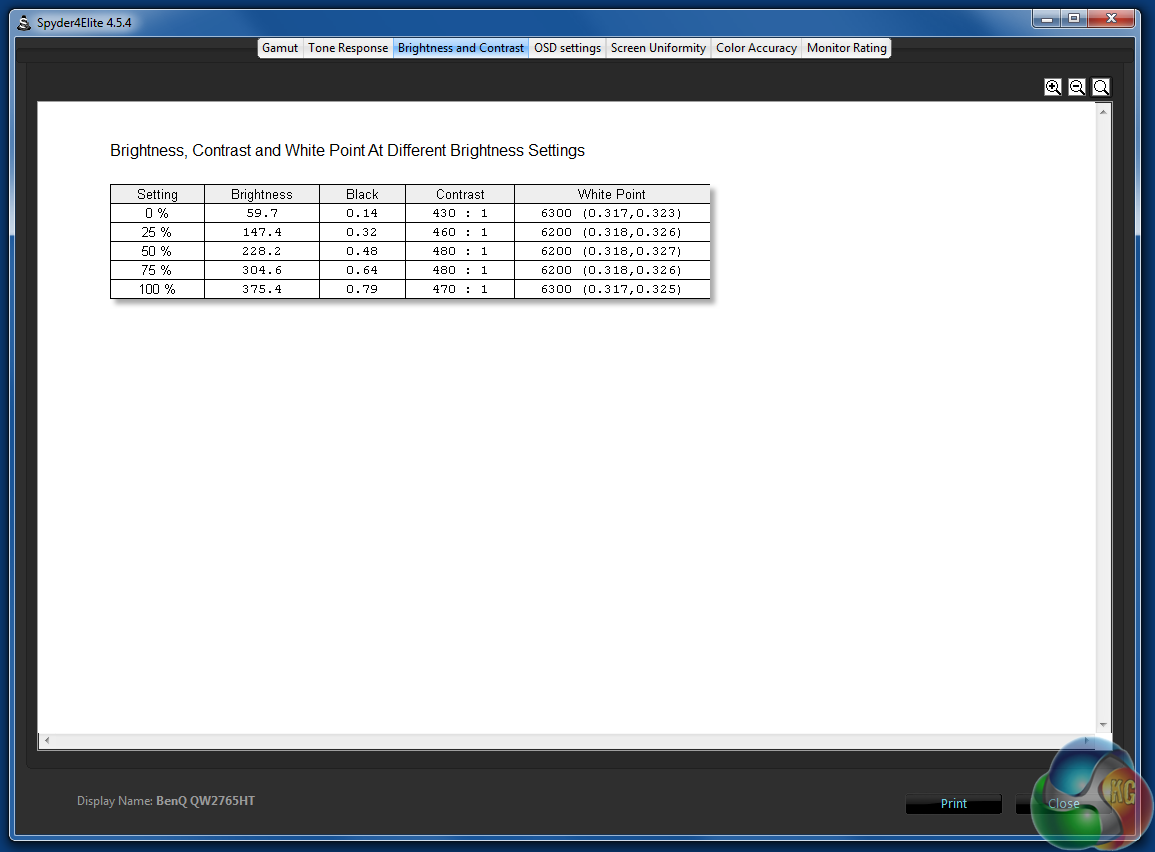 Neither is the brightness or contrast.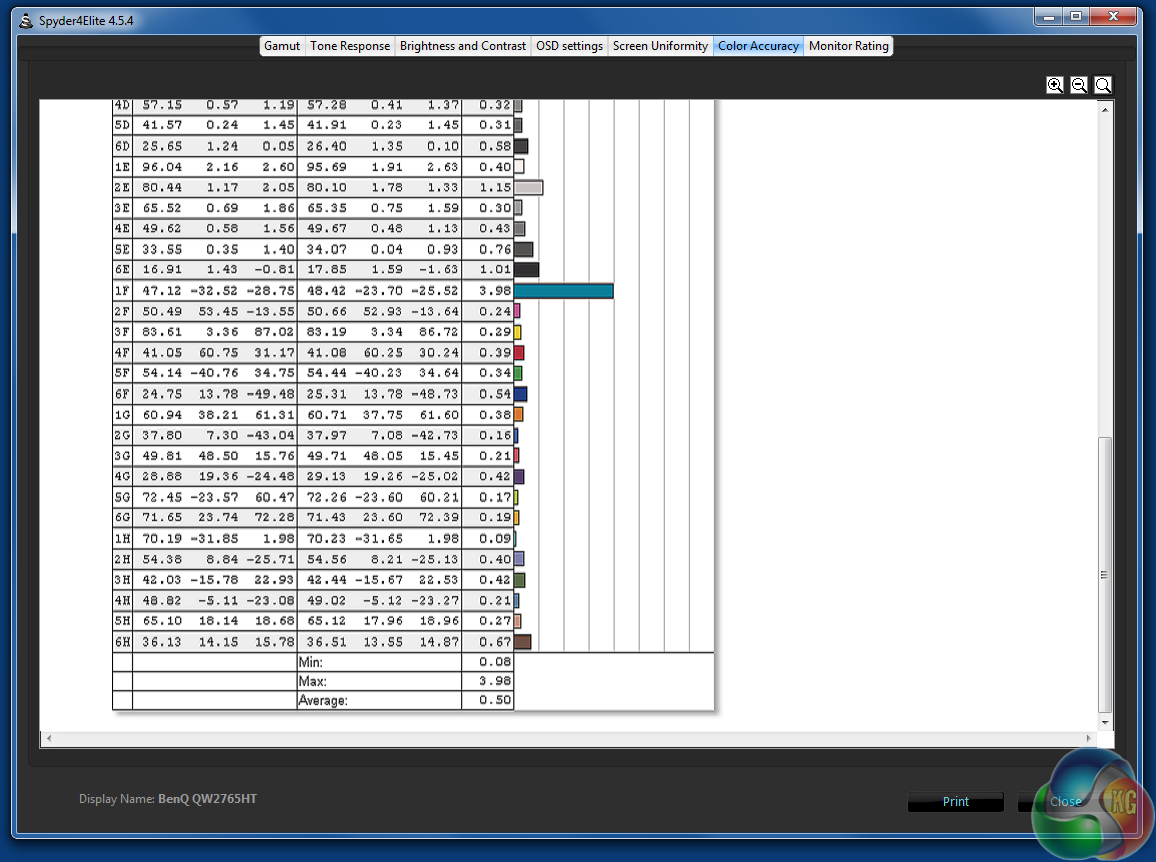 But the Delta E hits a value below 1.
Finally we played games on it, listened to music via the built-in speakers and measured its power consumption. At 100 per cent brightness, the GW2765HT consumes 43 watts of power, which is a tad higher than other displays we've reviewed.
The speakers aren't terrible, at least compared with those on other monitors, although they're not very loud. While it's unlikely you'll ditch a high-end audio system in favour of BenQ's offering, it doesn't sound tinny at all.
However, while the test results are mostly very positive, the GW2765HT is let down in one key area. There was backlight bleed in the upper left side and top right corner, very noticeable during testing as the Spyder4 software uses a black background which highlights such flaws.