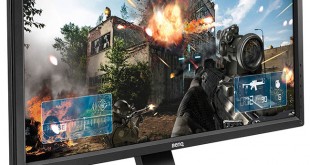 The BenQ RL2755HM is a 27-inch gaming display with a TN panel and a 1ms G2G (grey-to-grey) response time. BenQ talks up its gaming credentials for both PC and consoles, thanks to its dual HDMI ports and a few ergonomic tricks such as an extendable headphone rest and a stand that's shaped for gripping joypads. With a price that's reasonable and competitive with other 27-inch screens, the RL2755HM is certainly worth a look if you're after an affordable gaming display.
We've seen some great displays from BenQ recently. The company's high-end 4K BL3201PT treated us with superb desktop picture quality, good gaming performance and an excellent design.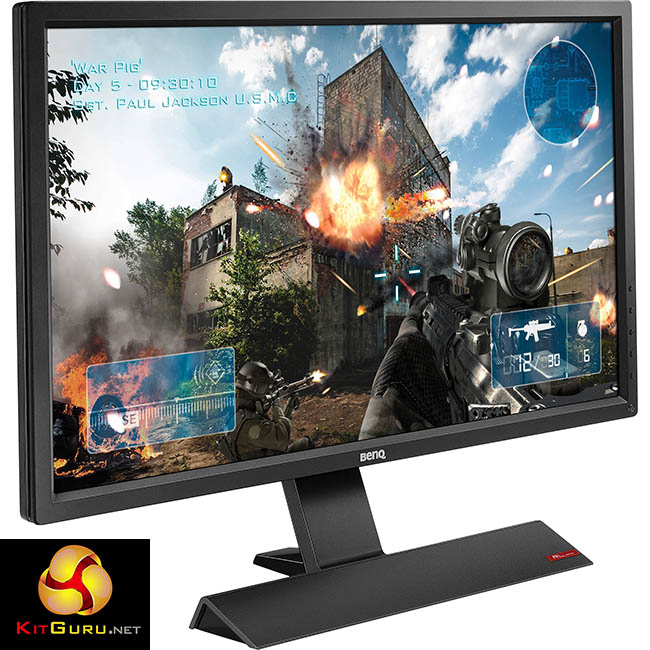 The RL2755HM is aimed at the opposite end of the market. It's far more affordable, and has a 27-inch screen rather than 32-inch. Based off TN panel technology with a 1ms response time, it's a display that's intended squarely at gamers, with features that will appeal to players of both console and PC titles.
This includes small additions such as the extendable headphone rest built into the side, and the rubber grip on top of the stand to hold joypads in place. There's also a list of preset colour settings for specific types of game, which BenQ says have been developed with the help of both colour experts and pro gamers.
Many gaming enthusiasts play both PC and console games, so for some, a big consideration when choosing a display is the variety of inputs. Dual HDMI means, in addition to having a PC connection, you could plug in a Nintendo Wii U and an Xbox, and so on.
It's only a 1080p panel though, when many displays of this size support WQHD (2560 x 1440) resolution. This might mean the Windows desktop icons are a bit too big for comfort, but depending on your taste, it may be just right for you.
Its viewing angles are quoted as 170 degrees horizontal and 160 degrees vertical, fairly typical of a TN panel.
There's also a pair of built-in 2 watt speakers, another major consideration for a display intended for gaming. Many gamers rightfully shun built-in display speakers and rely on an external sound system, but it's still very useful to have them included for situations when external sound isn't available.
Featuring the company's now-familiar design black appearance, with a subtle hint of red, the RL2755HM looks really good as well.
BenQ RL2755HM features:
Ultra-Fast 1ms GTG Response Time
Bringing Everything Together to Complete Your Console Gaming Experience
Every detail about the RL2755HM screams out perfection for console gaming – even when it comes to storage for your gaming gear. The next-generation angular, compact base stand has been enhanced with slip-resistant rubber finish on the inner side to effectively grip your controller, so you can easily tuck it away and out of the way after each game.
* Dual HDMI for Added Flexibility
Equipped with two HDMI ports, the RL2755HM allows you to connect your game console and another HDMI device at the same time. So there's no need to frequently plug and change your connection.
* Console Game Mode Colors
Gaming is in the details. Every feature and function of the RL2755HM is designed and tested by professional gamers and BenQ color experts to provide you with vital visibility and command for console gaming.
* 20-Level Color Vibrance Setting to Optimize Gaming Precision
It is absolutely vital that the RL2755HM give you the flexibility you need to get the color performance you seek. This is why BenQ built into the monitor 20 levels of Color Vibrance setting to meet gamers' specific viewing requirements and preferences for all types of gameplay.
* Fighting Mode to Sharpen Your Focus
Absolute focus on characters is the key to master every fighting game. To optimize the gamers' chance of winning, BenQ invited fighting game legend, Justin "JWong" Wong of Evil Geniuses, to co-design the Fighting Mode.
* Low Blue Light as Eye Safety Precautionary Measure
Practice long hours with clear, comfortable vision or compete with top-notch vision condition with BenQ's new Low Blue Light.
* Gaming-comfort Flicker-free Technology
Co-developed by pro gamers, the RL2755HM is upgraded to eliminate flickering at all brightness levels, effectively reducing eye fatigue herewith providing extreme comfort for even the most hardcore gamers after long hours of play time.
* Customize Your Individual Viewing Preference
The Display Mode and Smart Scaling features allow you to change the monitor view to suit your liking and to simulate any in-game experience.