Inside the box is an external power adaptor with UK and EU cabling, a USB 3 uplink cable, and a single DisplayPort cable, along with the usual literature and a software CD.

The stand has a bright red underside, that's not really visible in use, aside from a small glimpse of red at the edge and and where it's slightly visible from curved cutaways to the side. Viewsonic has basically chosen a fairly standard shape and done what it can to make it interesting. And it works quite well.
And the obligatory Viewsonic logo in the centre.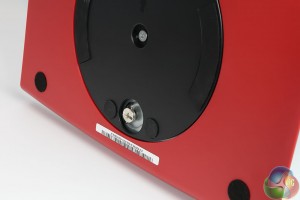 We don't recommend putting the Viewsonic XG2700-4K together after you've had a few drinks. The stand uses a slightly fiddly system of connection. Place the two metal parts of the support shut into the base, then secure it with a metal key. But to find that metal key, you need to rotate the black plastic circle so the hole make it accessible. Not immediately obvious.
There's more. The stand does not rotate on its own. To turn the monitor you need to swing it round on its base, relying on the rotation of this plastic circular section. It's not a great system, to be honest.
But assembled in all its glory, it looks good, with a fairly traditional appearance. It uses a dark grey plastic bezel,
There's no large cable management hole in the back of the stand.
We notice the bezel around the screen is not as thin as some gaming displays, measuring a few centimetres.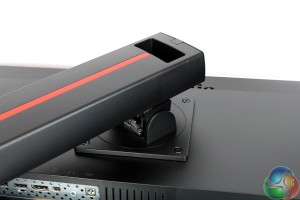 The stand is removable by manually undoing four screws, and is 100mm VESA compatible.
There's quite an array of ports. Three HDMI, one of which is HDMI 2.0 compatible, which means 60Hz 4K operation, and two HDMI 1.2 ports, one of which uses the Mini-DP form factor. There's also a 3.5mm audio output, used for connection to an external audio source.
While there are no built-in speakers, it's probably a good idea to hook up your audio to your display rather than directly to your PC's sound card, as it will still process audio from any HDMI source (think games consoles), as well as directly from your PC over HDMI or DisplayPort.
There's also a USB 3 uplink port and the power connector.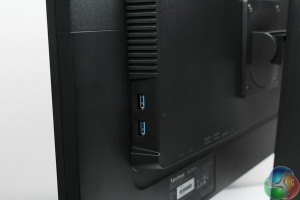 And two more USB ports on the right-hand side.
The rear uses the same dark grey matte plastic covering.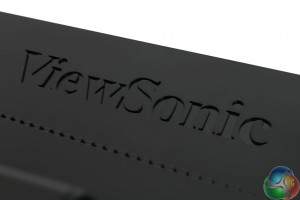 With a great big Viewsonic logo in the centre.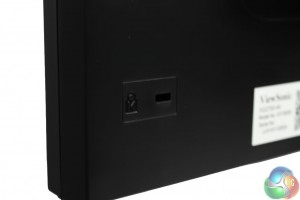 And a small hole for a Kensington Lock in the lower right.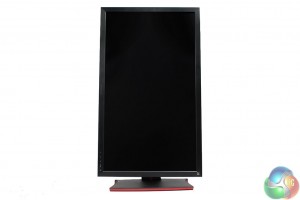 Although there's no built-in rotation in the stand, the Viewsonic XG2700-4K can be raised and lowered, as well as swivelled around into portrait mode.
And it tilts back and forth between -5 and 35 degrees.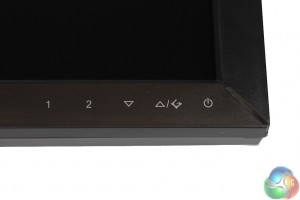 And lastly, on the lower right of the bezel are five context-sensitive touch buttons used to control the on-screen display (OSD), which we'll talk about in more detail on the next page.
The left-most button is labelled 1, followed by another button labelled 2. There are up and down arrows and a single button at the end used to power on the display.