It's quite hard to find any IPS display that could be described as producing a bad image these days, but the Viewsonic XG2700-4K still manages to stand out from the crowd. The picture quality is stunningly good and you can really make some visible improvements to the picture quality within the OSD settings of the Viewsonic XG2700-4K. The black uniformity setting in particular really makes the image stand out, and is a setting we would choose to leave on all the time.
But outside the subjective view of this display, we got some quite fantastic results from colorimeter testing. 840:1 contrast is considerably superior to the vast majority of other displays we've tested.
Then another result from the colorimeter seriously impressed us. The panel uniformity is simply superb, even with the out-of-the-box factory settings, without enabling the specific option in the OSD to improve uniformity. That's a rarity. We've only seen a few displays ever manage brightness uniformity averaging below 5% but Viewsonic is offering it here.

While these results point to amazing out-of-the-box image quality, the Delta E score just under 2 is fine, but it's not the best we've seen, and the AdobeRGB gamut isn't terribly impressive either. Notably though, after calibration, the Delta E indeed hits a more impressive figure for colour accuracy.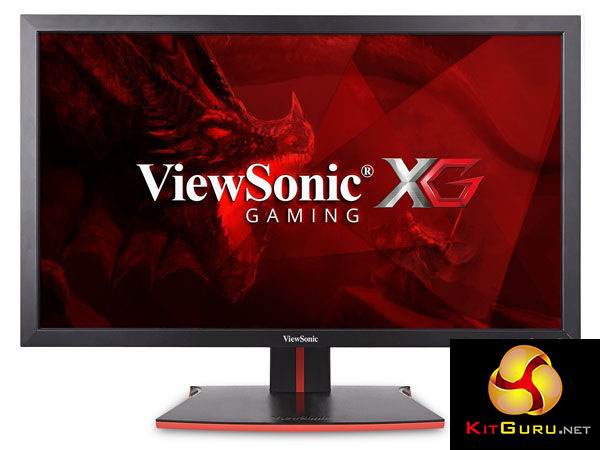 What's more, there are a few niggling quibbles about the Viewsonic XG2700-4K. There are no built-in speakers, which might not seem to matter if you have a fat sound system for your gaming PC, but it's an expensive display, and we'd argue nothing should be left out. Rotating the panel is done via a cheap plastic mechanism that requires rotating the entire display including the stand, rather than a proper rotating support like on most displays. Slightly bizarre design choices.
The menu system and the "1/2" method of input with touch-screen buttons is generally fine to use, although it takes a bit of getting used, but we have no major quibbles about it, with a clearly legible colour scheme.
But it's a bit on the small side, and you can be buried in submenus of settings to find the one option you want. The labelling isn't entirely sensible throughout, with multiple separate colour menus, for example, rather than keeping them all in one place. A little bit of extra polish here and a more logical design would have gone a long way.
But aside from that, everything else works very well. The stand pivots and tilts, so a big tick for the Viewsonic XG2700-4K for that. And it earns more points for being rather good with FreeSync enabled, and offering up a 4-way PIP mode.
There's a whole lot to like, and the overall feeling is that this is a display that will work equally well for both gaming and image editing.
Such a thing is quite a rarity. In reviews of gaming displays, we've often lamented the lack of options to customise the image, which have been deliberately left out, and similarly, some displays intended for image editing leave out basic features for gamers.
We asked for a display that offered both, and the Viewsonic XG2700-4K is it. It's not the worlds best gaming screen, or the very best display money can buy for graphic design, but it sure as heck does a good job of both, and would absolutely have earned a top score, if it hadn't been for a few rather minor annoyances.
Discuss on our Facebook page, over HERE.

Pros:
Brilliant image quality.
G-Sync module works fantastically well.
Quad-input PIP mode.
Cons:
Menu system can be a bit fiddly to navigate.
Stand lacks easy rotation.
Kitguru Says: A display that's very good for both gaming and graphic design work is quite a rarity, but Viewsonic has pulled this off with the highly impressive XG2700-4K. Yup, it's pricey, but it's also one of the best 4K screens out there.