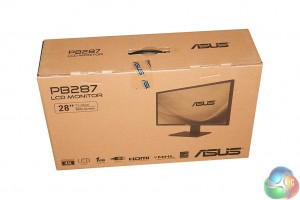 The Asus PB287Q ships in a large brown box with details of the product on all sides. By comparison Asus ProArt screens ship in full colour boxes. The box weighs 10.6kg, so it isn't too difficult to carry around.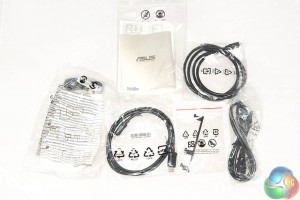 In the box are the following accessories:
Cable Clamp
Audio cable
Power cord
DisplayPort cable
Quick start guide
HDMI cable
Warranty Card
MHL cable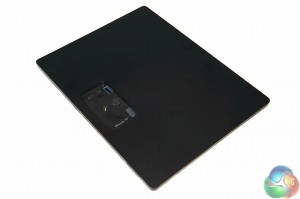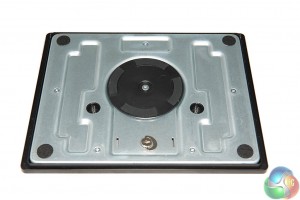 The PB287Q ships in the box with the stand already fitted, and rotated along the length of the screen. The base, shown above is a tool less fitting which proves popular with the public. After all, the less hassle during the set up phase, the better.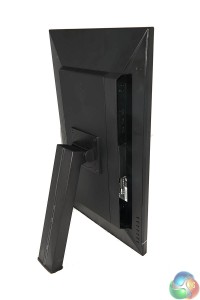 The main monitor ships with the stand arm rotated into a portrait position – it only takes a couple of seconds to fit the main stand to the base.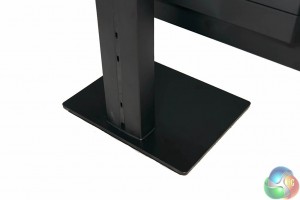 In operation the stand is very strong and offers portrait rotate, swivel tilt and pivot. When the base is fitted, the PB287Q weighs 8kg. It is worth pointing out that the monitor does not wobble at all, thanks to the weight and width of the base itself. Bonus points.
Mechanical design:

Chassis Colors : Black
Tilt : +20°~-5°
Swivel : Yes
Pivot : Yes
Height Adjustment : Yes
VESA Wall Mounting : 100x100mm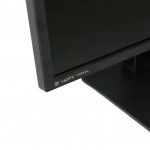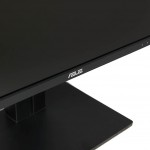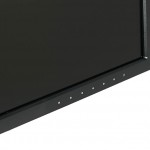 Above, close ups from left, center and right positions – along the bottom of the screen. The panel has two rather weak (2W RMS) speakers installed. In real world terms they are very bass light, and don't produce much volume – but still they may prove useful for some people and can be completely disabled if you don't want to use them.
The interface panel on the Asus PB287Q is a traditional style 'button' arrangement with the buttons actually behind the panel (see the image below).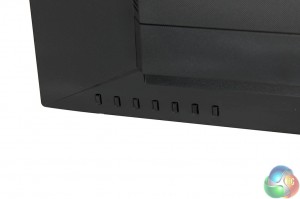 It can be tricky to configure various onscreen options as you need to fumble around the back of the screen with your fingers while watching the on screen menus. I found that accidentally pressing the power off button was pretty easy. The air was blue for the first couple of minutes until I adapted to the layout. Asus really should have moved the power button to a completely different position – it is quite an interface oversight by the team.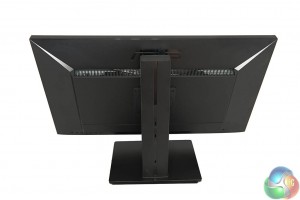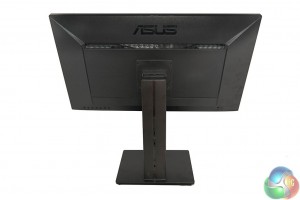 The screen is fully height adjustable – and by simply pushing down or pulling up on the screen, it will move position.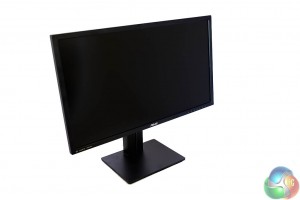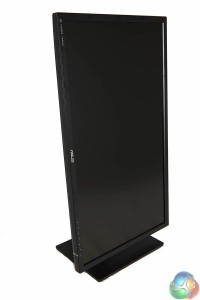 If you want to rotate the screen into a portrait position, then you need to pull it up to the full height.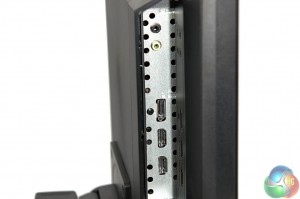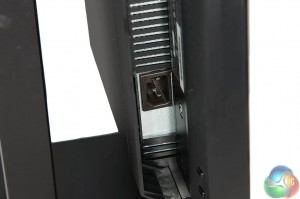 The rear of the PB287Q has connectors for HDMI, HDMI/MHL, DisplayPort alongside two 3.5mm mini jacks. One of these is for PC Audio Input and the other an Earphone jack (for HDMI & DisplayPort only). A straightforward PC power connector port is available the other side of the I/O panel.
One of the HDMI ports is MHL capable, meaning you can connect a supported smartphone for output.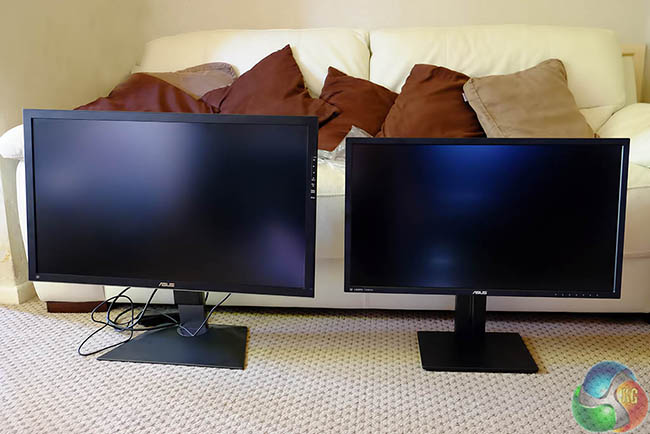 The image above shows the PB287Q (right), beside the more expensive 31.5 inch Asus PQ321QE.