Windows 7 still proves popular with our audience and many people have not moved to Windows 8/8.1 yet. There is no doubt however that Windows 8.1 offers better scaling options for Ultra HD 4K monitors.
Using the Windows desktop at the native 3,840 x 2,160 resolution on a 28 inch screen can put some strain on your eyes. We aren't going to go into a lot of detail in this review as many readers will already know about this but if you want a quick crash course on Windows 8.1 scaling, check out this page.
To test today we are using a LaCie calibration gun along with specific software to accurately measure the readings. We analyse the 2D elements of the monitor via this test system featuring a reference Nvidia GTX780 Ti graphics card.

We measured gamut out of the box and the PB287Q returned a reading of 2.18 which is very good. We manually adjusted the Gamma to 1.8 and the panel returned a 1.78 result.
The PB287Q is a TN panel, and as such the viewing angles are much reduced over an equivalent IPS panel. We found the viewing angles were very close to the 170°(H)/160°(V) rated specifications by ASUS.
The DisplayMate 64 step Grayscale test returned a very good result, although not perfect, a few steps were missing – although if this is important then you will be wanting to budget for an ASUS ProArt panel, such as the PA279Q or spend the extra money on the Asus 31.5 inch PQ321QE (The PQ321QE delivers a perfect result in this test).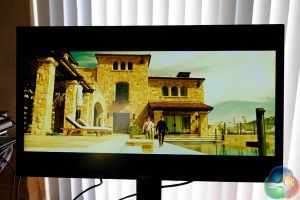 The 10 bit colour accuracy of the PB287Q is quite good although the screen doesn't ship calibrated from the factory, and our particular sample had a noticeable yellow bias – this is slightly noticeable to the naked eye but can be removed with a little calibration. After calibration, the images are vibrant, clean and reasonably sharp. Upscaling 1080p high definition content does look a little 'soft' overall, but playing back native Ultra HD 4K media files is very impressive (if you can find any).
Panel Linearity rated as very good, with minor deviation at the edges of the panel, commonplace with many screens in the mid to low end of the market. sRGB color gamut rated at around 97%. Gradients are reasonably smooth.
Asus rate the panel at 1ms Gray-to-Gray, targeting the screen at hardcore gamers. In the real world we noticed no artifacting or smearing when playing fast motion first person shooters such as Battlefield 4 and the latest Wolfenstein game.
High grade images look fantastic, with reasonably high contrast and better than average colour reproduction. I am not a hardcore gamer, so I did get the opinions of several other people who game in a local clan, and they were equally impressed with the refresh rate.
It is worth pointing out that gaming at the native resolution of 3,840 x 2,160 will place a huge demand on the graphics hardware in the system, so it is important to factor this into the total cost of ownership when buying a new Ultra HD 4K screen. We recommend a GTX780 Ti or R9 290/X to get a good overall experience (if you want a solid 60 fps at high image quality settings then you need to look at spending extra for an SLi or Crossfire setup). You can read some of our benchmarks at 4K in our latest Sapphire R9 290X Vapor-X OC review, with plenty of comparisons included.

Black Definition rates reasonably well, with some light leakage across the full width of the screen, rising to around 20% on the extreme corners. This is actually not that noticeable under most conditions, even when watching high definition bluray discs. If you increase the contrast and brightness to the highest levels and pause a movie on a predominately black image the naked eye will pick it up.
Contrast levels are adequate, and ASUS rate the screen at 100000000:1. It did fall a little short of these claims according to our equipment however there is plenty of 'punch' in the image, and you won't want to be running at close to 100% when gaming or video editing.
The pooling at the edges won't interfere with any work based duties, and susceptibility is only minor. If you use the screen at maximum brightness then the blacks in the three quarter midrange will be slightly more gray than some of the higher grade screens – we did notice the same issue however with the ProArt PA279Q. Brightness levels can be dropped however as the contrast levels are quite good overall.


White purity is above average, with the corners reading around -15%, extreme edges rate at close to -20%. There are a few areas in the center of the screen which read around 13%, although again this is barely noticeable and may vary a little from panel to panel.
In real world terms, this screen wouldn't be an ideal partner for a colour critical photographer, or designer who needs completely accurate reproduction. This is why ASUS sell the PQ321QE after all. The PB287Q is however perfect for a gamer, or general user who needs a lot of physical workspace.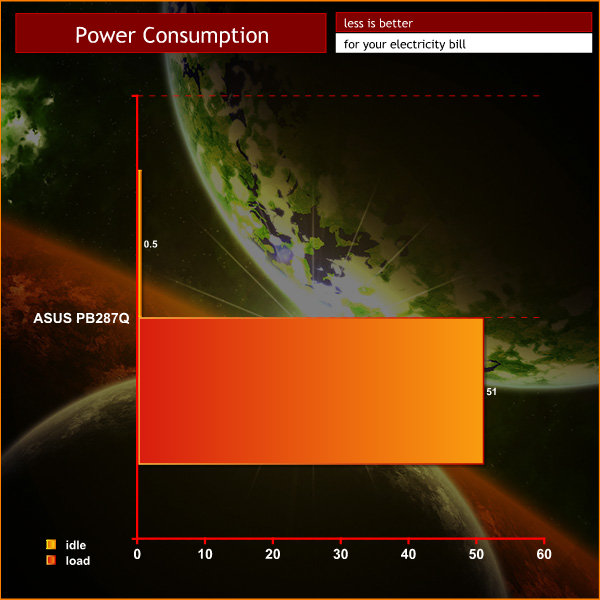 When idle, the PB287Q uses 0.5 watts. After our calibration it demanded 51 watts at the socket.