To test the Endgame Gear XM1, I used it as my daily driver for just over a week. We break down testing into three main sections: software, build quality and comfort, and performance.
Software
The software for the XM1 is available to download directly from Endgame Gear. At the time of writing, the latest version is V1.06.

There is no doubt that this software suite needs improvement. The first thing I noticed about it is that it does not scale with high resolutions displays – using it on my 4K monitor required a lot of squinting as text was very small. More fundamental, however, is just how lacking the software itself is.
Starting with the 'buttons' tab, here the 5 buttons on the top of the mouse are listed. You can't re-map either of the primary buttons, though, and the side buttons can either be disabled, or set for forward and backwards browser navigation. Similarly, the middle click can only be set as 'middle click' or disabled. So there's no scope to remap buttons to open certain programs, to set macros, assign buttons to multi-media functions etc. It's very basic.
As for the 'sensor' tab, here you can set the four DPI stages and choose an accompanying colour for each one, toggle ripple control on/off (which seems to be related to sensor smoothing) and then adjust lift-off distance (LOD) from 2mm to 3mm.
The 'update' tab simply searches for updates to the mouse's firmware, and clicking the software update button just takes you to Endgame Gear's downloads page, so there is clearly no software update function built within the software itself. Lastly, the 'support' tab provides a link to the XM1 FAQ and an email address for customer support.
Clearly, the software leaves a lot to be desired, and it definitely shows that this is Endgame Gear's first mouse. It is a good thing that there is at least an easy way to adjust LOD and DPI stages, but that is pretty much it – so anyone looking for anything more sophisticated is going to be disappointed.
Build quality and comfort
One of the headline features of the XM1 is that it weighs just 70g, and it has achieved that weight without covering the main shell in small holes. Despite that very low weight, build quality is actually impressively solid for the XM1 – there is no discernible rattle from either the scroll wheel or the sensor lens, and the main shell doesn't creak or flex when pressure is applied. On top of that, I tried squeezing the left side of the mouse to see if that would cause the side buttons to actuate – an issue for some Model O owners – but that is not possible for my XM1.
The XM1 is also very comfortable to use day-to-day. Obviously this depends on your hand size and what shapes work best for you, but I've always liked the Sensei shape and the XM1 is just a little bit smaller which works perfectly for my 18x9cm hands when using a claw grip. You can also fingertip the XM1 which is no problem (the 70g weight will help a lot) and you probably could use a palm grip but you'd have very small hands for this to be feasible – for me, it was just not a realistic option.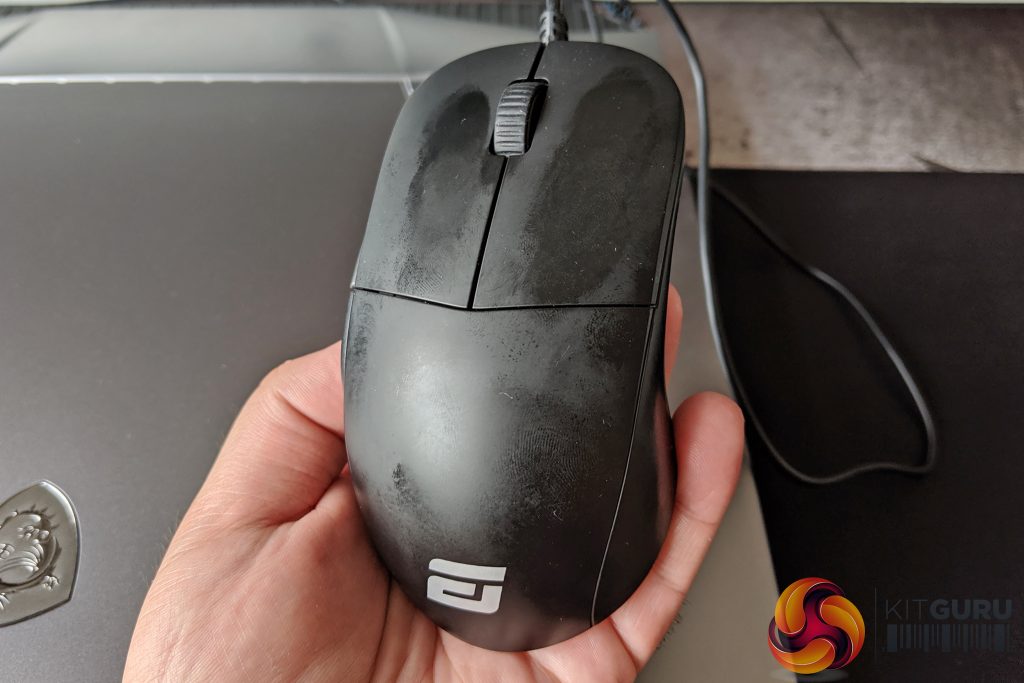 One other thing I want to mention is the coating. The XM1 is finished with a soft-touch coating and I do find it to be very grippy when gaming, so that's not a problem. It is, however, a huge fingerprint magnet which will show up all sorts of natural grease and oil residue unless you clean it daily. The picture above, for instance, was taken after I had played PUBG for a couple of hours the previous evening. I was playing in semi-darkness so didn't really look at the mouse once I finished, but when I came back the next morning it was quite a state.
This isn't a dealbreaker for me, but it is a bit gross to see all your sweat and natural oils left so visibly on the mouse after gaming. I wouldn't even say my hands get particularly sweaty, the XM1 coating just shows up basically everything that's touched it.
Performance
Moving onto day-to-day performance of the XM1, I'll start with the primary buttons. Like we mentioned, these use pre-sorted Omron switches rated for 50m clicks, and this goes in tandem with Endgame Gear's 'patented analogue switch contact algorithm'. In terms of physical feel, these buttons have to be up there with the best I've used – the actuation is light and crisp, and there is absolutely minimal pre- and post-travel from the shell. I do still prefer the clicks on the Logitech G403 – the best I've ever used – but the XM1 comes very close.
It's also worth touching on that analogue switch contact algorithm, which is what Endgame Gear says enables them to market the primary buttons as having 'sub-1ms' click delay. Endgame Gear explained to me what exactly is going on with this technology, and I have copied their explanation verbatim:
'We [Endgame Gear] are using a special patented analog technology to read the key signals from the switches which results in much faster reaction times compared to a normal, digital solution. By this we can beat the normal time needed for debounce by up to 16ms depending on the mouse it is compared to and quick response time is something that each gamer will require. With our analog tech the detection time is below 1ms for a mechanical switch.'
In practice, I'll be honest and say I could not tell the difference between gaming with the XM1 and gaming with the G403. For me, they were both as fast as each other and I certainly couldn't notice any delay between me clicking and my gun firing in PUBG, for instance. It is also worth saying that I did not experience any double-clicking issues with the XM1, which seems to have affected some people, but it was not a factor for me.
If you're a highly competitive FPS gamer, there's a chance the XM1 may prove noticeably faster for you – all I can go on is my own experience, but at the very least the clicks feel excellent and in game everything felt perfectly responsive, so I really can't complain. I just can't say I noticed the difference between the XM1 and another quality mouse like the G403.
Elsewhere, we'll also touch on the side buttons of the mouse. These aren't as good as the primary buttons as they feel a bit spongy due to a fair amount of pre-travel, and I also think they are a little high-profile. I didn't have issues using these in-game, but the feeling just isn't as snappy as I would like.
The scroll wheel, however, is excellent with very defined steps which you can still feel even when scrolling very fast. The scroll wheel click is a little stiffer than I would like, but again this didn't cause me any issues.
As for sensor performance, being a PMW 3389 it is not a surprise that I cannot fault overall tracking or precision at all. Simply put, sensor performance proved flawless throughout my testing – whether I was playing games at 1200 DPI or doing some very fine adjustments in Photoshop at 400DPI, tracking was pixel-perfect with no noticeable acceleration or jitter.
One thing worth re-iterating here is that the DPI switch button is placed on the underside of the mouse. This obviously means you will have to pick up and turn the mouse over to adjust DPI settings, which – for those that switch DPI stages regularly – is going to be a pain. I can understand why Endgame Gear has done this, as the XM1 is very much aimed at esports gamers who typically set one DPI stage and leave it there – for them, the button being on the underside simply means there won't be any accidental presses during gameplay. For others, however, this may be something to consider.
Lift-off distance is also worth touching on. By default the LOD is set to 2mm, and with this setting I found the XM1 stopped tracking once it was sat on top of two DVDs. You can raise LOD to 3mm in the software, which meant the mouse would still track on top of two DVDs but stopped tracking at 3 DVDs high.
Lastly, we have the cable to mention. This is 1.8m long and is plain rubber, and it is overall of good quality. It's reasonably flexible and isn't too thick either so I was able to use it in my mouse bungee without any problems. For a rubber cable it's definitely good, but I do feel Endgame Gear could have made it better with the inclusion of a 'shoelace' cable, as found on the Model O or DM1 FPS. The DM1 FPS has the best stock cable I've ever used, and is priced similarly to the XM1. I'm not saying the XM1 has a bad cable, but the standard has been raised by the recent mice with those 'shoelace' cables.