There's a lot to like about the Glorious Model O-, particularly if you are a big fan of this new 'ultra-lightweight' mouse trend.
The size and weight of the mouse really do define the Model O-, as it weighs just 58g and it is very small, measuring 120 x 63 x 36mm. This really does mean the mouse is only going to suit certain people – if you like to palm grip this won't be for you, I even found claw grip quite uncomfortable. It's primarily a mouse for those with small to medium hands who like to fingertip grip. That's not a negative point, as it will likely be perfect for some people, but just be aware this mouse is particularly small.
That said, if that does sound perfect for your needs, the Model O- is a very capable gaming rodent. Its PWM 3360 sensor is as good as ever, the Ascended Cable feels great to use and the scroll wheel is up there with the best I've tried.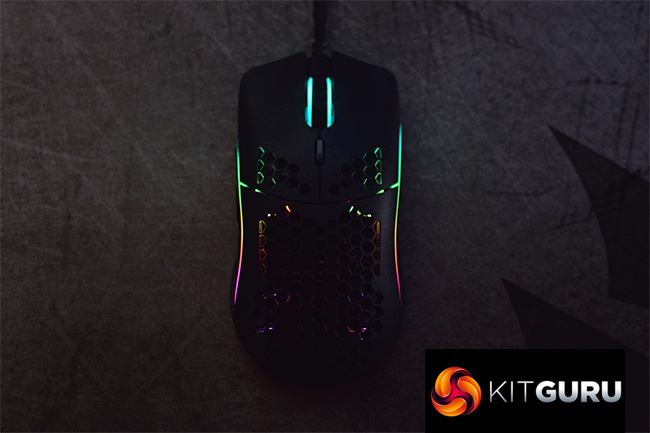 Elsewhere, it is good to see software included with the Model O-, even if it is not the most comprehensive out there, while the RGB lighting is likely to satisfy nearly everyone.
As for what could be improved, while the primary buttons are decent, there is just a hint of post-travel which does take away from the overall tactility of the clicks. On top of that, its no surprise that a mouse this light and hole-ridden exhibits a bit of creaking here and there, while the side buttons can be actuated by squeezing in the sides of the mouse.
Those are relatively minor criticisms, however, and they look even less significant when we consider the Model O- costs just £44.99, though the glossy versions are an extra £5 and you do have to factor in another £7.49 if you want a replacement set of mouse feet as spares are not included.
Still, at that price the Glorious Model O- is an excellent little gaming mouse which is well worth buying. Like I said, it's shape and weight mean it won't be for everyone, but if you have smaller hands and like to fingertip grip, this will be right up your street.

You can buy the Model O- from Overclockers UK for £44.99 HERE.
Pros
Very light.
Less than £50.
Top quality sensor.
Excellent side buttons and scroll wheel.
Flexible cable.
Cons
Some minor build quality issues.
Primary buttons suffer from slight post-travel.
KitGuru says: If you're looking for a very small and very light gaming mouse, the Model O- is a great choice at a very competitive price.