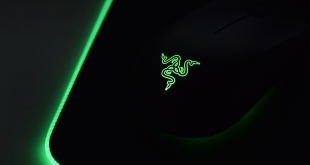 While Razer has diversified its product stack significantly over the last few years, peripherals has always been at the core of the company. The likes of the DeathAdder Elite and the Mamba don't come cheap, though, so what should you buy if you want an affordable Razer mouse? The new Abyssus Essential could be the answer.
True 7,200 DPI Optical Sensors
Up to 220 IPS / 30 G Acceleration
Left and right hand universal ergonomic design
Game-level touch wheel
3 independently programmable Hyperesponse high-speed response buttons
Omron micro-switches with 10 million click durability
Razer ChromaTM Illumination Lighting System with 16.8 Million Customizable Color Options
Support Razer Synapse Thundercloud
1000 Hz ultra-fast polling rate
Fly sensitivity adjustment
7-foot lightweight cable
Approximate dimensions: Length: 114.7 mm, Width: 63 mm, Height: 37.3 mm
Weight: 78 g (without cable)
Approximate weight: 109 grams (with cable)
The first thing anyone is likely to notice about the Abyssus Essential is the fact that there are no side or DPI buttons. That obviously presents a bit of a problem as lots of gamers use side buttons to throw frags, change weapons or zoom, in to give just three examples. In a similar way, it's also very handy to be able to adjust DPI on the fly, whether you're gaming or editing photos.
The buttons that are there – the primary LMB, RMB and scroll wheel – work well, though. Both LMB and RMB have a snappy click that feels good, while the scroll wheel is pleasantly textured and its steps are relatively distinct.
Speaking personally, the shape of the Abyssus Essential is not for me. It's very low-profile, and its distinct lack of any 'hump' at the back means it doesn't really fill into your hand. That makes it best for claw or fingertip grip, unless you have very small hands and can grip it with your palm.
In terms of build quality, the mouse weighs 78g (not including cable) so it's pretty lightweight. It still feels sturdy, though, but there is a bit of rattling to be heard if you shake the mouse. The smooth plastic can also get a bit slippery once you've been gaming for a little while. so the lack of any side grips does become apparent after a bit of use.
Gaming performance is fine, however. Razer has not disclosed what sensor the Abyssus Essential uses, but it's a safe bet it's not the top of the line PMW 3389 found in the DeathAdder Elite. Regardless, I had no issues with jitter or angle snapping, and in terms of LOD the mouse stopped tracking after I'd wedged two DVDs underneath.
Perhaps the biggest selling point for the Abyssus Essential is the RGB lighting. Being a Razer product, the mouse uses Chroma lighting and it can synchronise with other Chroma-enabled devices. I tested it with the Goliathus Chroma mouse mat and the Nommo Chroma speakers and the overall effect of the synchronised light show is impressive. The dedicated LED strip on the underside of the mouse – which creates a lovely underglow – is also something that we haven't seen from too many other mice.
On the whole, the Razer Abyssus Essential doesn't really do anything wrong, but it is certainly hurt by the lack of side and DPI buttons. Priced at £49.99, I also don't think that it's as affordable as Razer thinks it is. The likes of the Cougar Revenger S, Cooler Master MM530 and Logitech G403 can all be found for less money, despite boasting a far superior set of features. The Abyssus Essential is only worth buying if you are a die-hard Razer fan and want the Chroma lighting.

You can pre-order the mouse for £49.99 from Overclockers UK HERE.
Pros
Chroma lighting works well.
Sensor performed with no issues.
Buttons feel snappy and responsive.
Cons
Can get slippery.
Lacks side and DPI buttons.
Expensive for what you get.
KitGuru says: If you really want a mouse that can integrate with your other Chroma-enabled peripherals, the Abyssus Essential isn't necessarily bad. However, there are plenty of cheaper mice on the market – with a full complement of buttons – that also have better sensors, making the Abyssus Essential a very tough sell.
Be sure to check out our sponsors store EKWB here