If you have bought any Razer product over the last few years, you will instantly recognise the box that the Basilisk ships in – it is black with green accents, and a large product photo dominates the front.
Inside, a Razer greeting card is included, as well as a quick-start guide.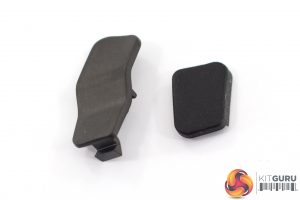 There are also a couple of tiny little attachments included in the box – these are for the Basilisk's replaceable DPI clutch, something we will touch on below.
Now, the mouse itself is on the larger side, measuring 124 mm x 75 mm x 43 mm, but it is not gigantic. There is a thumb-rest integrated into the left-hand side of the mouse, giving it a more ergonomic design when compared to the DeathAdder Elite.
It is heavier than the DeathAdder Elite (DAE), too, but the difference is small – at 107g, the Basilisk is just 2g heavier. Hardly major, but worth noting.
On the left-hand side of the mouse we find two side buttons, as well as the DPI clutch. If you're wondering, 'DPI clutch' is Razer's way of saying 'sniper button' – pressing the clutch lowers the mouse's DPI setting for as long as the clutch is held.
What makes it interesting, however, is the fact that the clutch is removable. By default, a longer clutch 'paddle' is installed, while a smaller one is also included in the box. You can see both installed in the images above.
If you're not keen on the idea, Razer also includes a small rubber blanking plate which just covers the button to prevent any unwanted presses.
Moving over to the right-hand side of the mouse, there are no buttons here, though most of the side is covered with textured rubber.
At the front of the mouse, we find the textured scroll wheel, while two DPI buttons sit just below that. The LMB and RMB buttons themselves are entirely separate from the main body of the mouse, too, which should make it easier to trigger the clicks, no matter where you press.
On the underside of the mouse, there are a couple of things to note. First of all, right at the top, there is actually a small scroll wheel resistance dial which lets you tune the scroll wheel's resistance to your liking. Next to the sensor, there is another small button labelled 'profile'. This lets you change between 4 different profiles which can be stored to the mouse's internal memory, removing the need for software.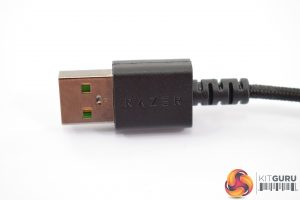 Lastly, the mouse connects via an integrated USB cable. Measuring 2m long, it also braided and is very flexible.