The SteelSeries Rival 700 ships in a dark grey box with orange accenting. A large photo of the mouse itself is visible from the front.
The box itself opens at an angle, revealing the mouse and a small accessories box.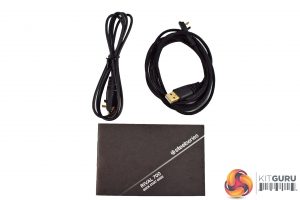 In that little box of accessories there is a choice of two cables: rubber or braided, as well as a small quick-start guide.
Turning our attention to the Rival 700 itself, we can immediately see that it is exclusively for right-handers thanks to the curved, ergonomic shape.
The top section of the body is also split in two, and the top half (where the mouse buttons are situated) features a smooth matte finish, while the bottom half is clearly finished with some anti-slip coating. The SteelSeries logo, at the bottom of the mouse, is one of two RGB lighting zones.
On the left-hand side of the mouse there are three side buttons – the usual 'forward' and 'back' buttons, as well as a vertical button just ahead of those other two navigation buttons. In the furthest left corner, the glossy plastic section actually houses the OLED display which we look at on the next page.
The right-hand side of the mouse is left bare, though there is some textured rubber to help you grip.
At the front of the Rival 700 we find the scroll wheel as well as a single DPI switch button.
The underside of the mouse is a bit more interesting, as the optical sensor here, the PixArt PMW 3360 – is actually removable. It is held in-place with four Phillips-head screws, but there is no other sensor included so you will have to buy that separately.
Lastly, at the very top of the mouse there is a small micro-USB connection which is where the cable connects to the mouse itself.