The ThunderX3 TM50 mouse ships in a dark grey box. On the front we get an indication that the mouse is RGB-capable.
The back of the box also includes some multilingual product specifications.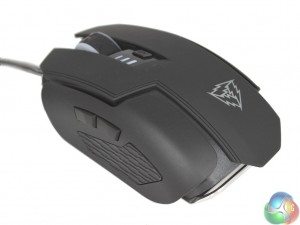 Getting our first look at the mouse, we can see it has a relatively simple design. It is shaped for right-handers, with the fascia being made up of 3 distinct sections.
The first section is the left-hand side of the mouse. Here we find 2 user-programmable buttons as well as a small, textured-rubber grip area for your thumb.
The next section is the mid-plate, which runs the length of the mouse – straight down the middle.
At the top of the mouse we find the scroll wheel. The wheel itself is noteworthy because it is both textured, to help with grip, and particularly wide – measuring in at 10mm wide. The extra width should make scrolling that bit easier in the heat battle. Just below the wheel is a DPI-cycle button as well as 3 LED indicators to let you know which DPI stage is currently in use.
At the bottom of the mouse is the ThunderX3 logo. Both the logo and the scroll wheel are illuminated by RGB LEDs once the mouse is plugged in, but they are not independently programmable.
The final section of the mouse is the right-hand side, where your fourth-and-fifth fingers would usually rest. Here ThunderX3 have done something a bit different, though, as this entire plate section is removable.
Out-of-the-box, the TM50 is configured with a satin-touch plate that has a subtle contour for your fourth-finger to rest in (pictured above, left). However, you can swap this plate out for a textured rubber section (above, right) that is included in the box if you prefer the extra grip. This is a nice touch that gives a bit of extra flexibility to the mouse – depending on your preference, the side plate can be adjusted accordingly.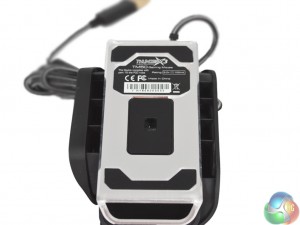 Lastly, the base of the TM50 is actually made of aluminium. This is designed to prevent unwanted lift-off while gaming, but it does also mean the mouse is quite heavy – the TM50 weighs in at 175g including the cable. Some would probably prefer a lighter mouse but it is definitely a personal preference thing. I, however, love the quality feel of a heavy mouse, so the TM50 suits me perfectly.