The Tt eSports Ventus X RGB ships in a mostly dark box with a red strip across the top. A photo of the mouse itself as well as some key product features are also visible on the front.
Inside, we find: 1x quick-start guide, 1x warranty guide and 2x Tt eSports stickers.

Getting our first look at the mouse, there are a few things worth noting. First of all, the shape – the Ventus X RGB is a larger-than-average mouse, designed for right-handers only. It measures 128.8 x 71 x 42.6 mm (LxWxH) and weighs… well, we'll get to that.
It is also a smart dark grey/charcoal colour – instead of the usual black – and sports a large honeycomb mesh section which we'll also talk about further down the page.
Turning to the sides of the mouse, the left-hand side sports two customisable buttons in the usual spot, while there is also some textured rubber just below those buttons.
On the right-hand side there are no extra buttons but plenty more textured rubber to help you grip.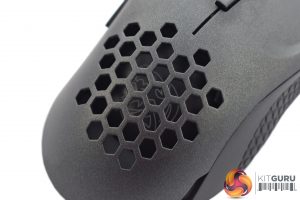 Now, most of the bottom-half of the Ventus X RGB is taken up with this honeycomb mesh that we mentioned earlier. This where the name 'Ventus' (think 'ventilation') comes from, as Tt eSports say the 'honeycomb design with smart ergonomic construction enables the smooth passage of airflow from hand-to-mouse during game play and creates an environment of breathability for enhanced movement and comfort during use, especially during periods extended game play.' We will of course put this to the test and discuss our findings on the next page.
You may just be able to make out the the Tt eSports logo sitting beneath the mesh – this is one of two RGB lighting zones.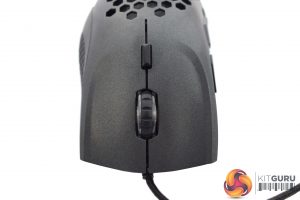 Speaking of RGB lighting zones, the scroll wheel is the second zone fitted with those glorious RGB LEDs. Just below the wheel is a single button which, by default, adjusts the selected profile, but it can be re-programmed using software.
Turning the mouse over, we get a look at the three PTFE glide pads, as well as the PMW 3360 sensor housing.
Just below the sensor is a small tab which opens to reveal the Ventus X RGB's weight compartment. Inside are 3x 4.5g weights which can be easily removed – just pull them out.
Tt eSports doesn't list an official total weight for the mouse, though, so I had to take matters into my own hands. With the cable, I measured the mouse's total weight to be 146g including those 3 weights. With all 3 weights removed, the mouse weighs 132.5g.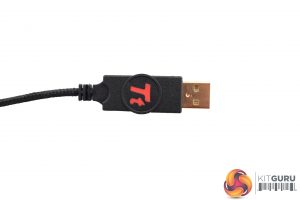 Lastly, the braided USB cable measures 1.8m long and is gold-plated.