We already know that there are some physical customisations you can make with the MasterMouse Pro L, but what about changes on the software side? Cooler Master has a simple and easy to use software hub available for its new 'Master Series' products. We got our first look at it when we reviewed the Master Keys Pro S keyboard.
The main control window lets you change what every button on the mouse does, even the DPI toggle underneath. Realistically, I imagine most people will only really want to re-program the two extra buttons on the side of the mouse and leave the scroll wheel and mouse clicks in their default configuration.
The Storm Tactix button command on the first window allows you to assign secondary command functions to each button on the mouse, which would make the two side buttons in particular twice as useful for those who like to load up on custom commands or macros.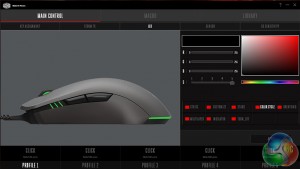 The LED window is fairly similar to any RGB colour selection screen. Here you can adjust colour levels to whatever you want, or set lighting effects like breathing, indicator, static, or colour cycle.
The sensor tab gives you complete control over DPI levels. You can also set different levels of sensitivity in-case you need to cycle to something else mid-game. Aside from that, you can also adjust the polling rate, or calibrate the sensor for your mouse pad, which should help you avoid minor cursor movements when lifting up the mouse to adjust position.
In the OS Sensitivity tab you can adjust mouse sensitivity for Windows, alongside things like button response time and double click speed.
If you ever want to record a macro, the window on the left is the place to do it. It is pretty standard stuff, Cooler Master hasn't strayed from the norm here. The library tab is the last one you will see, here you can backup your button profiles and reset the ones you have set up.
Cooler Master's software is easy to navigate and get to grips with, on top of that, it offers a respectable level of customisation. It hits the must have features, like custom DPI levels and then throws in some extras like mouse pad calibration, macro recording and RGB lighting.
The only issue I had with Cooler Master's software is that it is a tad slow to boot up and even slower to apply settings, even on a Samsung 850 Evo SSD. Loading up takes just a second or two longer than you would expect but applying settings to your mouse really does drag, often taking just over 20 seconds. This isn't an uncommon problem amongst gaming mice but it would be nice to see it addressed.
Now that we are done with the software, let's talk about day to day usage. Cooler Master is launching the MasterMouse Pro L today, so I've had my sample for around a week. It has been my main mouse during that time and I must say, it has been a pleasure to use.
While you can swap out the cover and side grips and top cover for claw grip use, I found the default configuration to be best for me. Both sets of covers are made from the same material, so they don't feel too different, it is not like one offers slightly better grip over the other.
The plastic used for the MasterMouse is smooth but it isn't glossy, so it does not become slippery during long gaming sessions, nor does it show up marks as quickly. I am not saying marks will never appear on the plastic but so far, I have been in the clear.
I have been training up a few characters in World of Warcraft this week in preparation for Legion, so that is where most of my gaming hours with this mouse went. Some gamers like to have lots of buttons on their mice but thanks to the Storm Tactix function, which gives buttons a secondary function, I found the two on the side to be adequate enough for a few custom in-game commands.
I didn't calibrate the Avago PMW-3360 IR Optical Sensor for my mouse pad simply because I did not feel like I needed to. During use I encountered no issues with tracking and I found the default lift-off distance to be perfectly fine. However, this could differ depending on what surface you are using. I happen to use an OCUK XL mouse pad rather than the wood surface of my desk.
The MasterMouse weighs in at 127g (with the cable), which is very light, making movements quick and easy. However, it is not quite as light as something like the Fnatic Gear Flick, which came in at 90g. I couldn't really tell the difference in use myself but you never know, some people can be quite particular when it comes to things such as mouse weight.