The Ozone Neon comes in a fairly standard box. The front shows off the mouse itself, while the back lists key features and specifications.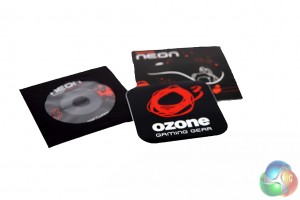 Inside of the box you will find an Ozone sticker, quick start guide and driver disc, in addition to the mouse itself.
First impressions of the mouse are positive, the build quality feels solid enough though the mouse is a little on the small side. The braided cable is a nice touch and I do quite like the blue accent going around the edge.
The mouse incorporates four additional buttons, two on each side of the mouse to make it compatible with both right and left-handed users. This level of inclusiveness is always welcome.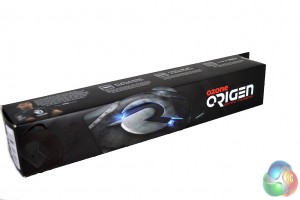 The Origen mouse mat ships rolled up, so you will need to lay it out to get rid of some of the creases. I found that the edges of the surface can take a while to flatten out in particular.
One thing is for sure, this mouse mat is huge. You will need quite a large desk if you wish to roll it out unobstructed, unfortunately my desk isn't quite big enough thanks to my additional monitor on the right. I ended up having to place my monitor on top of part of the mat, along with part of my keyboard.
In all, first impressions are pretty solid, the Origen mouse mat offers a very large cloth gaming surface for a smooth glide and the Neon mouse seems comfortable enough to use. Now let's find out how it all performs…