The Ozone Neon mouse doesn't come with any additional LED lighting. As a result, customization is limited in that respect, though there are still plenty of tweaks and options available in Ozone's software.
When you first launch the Neon software, you will be greeted with the above window. From here, you can change sensitivity options, set your DPI toggle levels, save or load a profile and change different button actions.

In the system settings tab, you are able to customize some of the basic functions, like double-click speed and windows pointer speed.

In the advanced settings tab, you can set your mouse polling rate, along with the on-to-go speed. Now, this isn't a setting we usually find inside of mouse software, so I did the unthinkable and consulted the manual, which reveals that 'on-to-go' speed controls how quickly mouse functions can be repeated.
Ozone's software is simple to use and easy to navigate- two things that I have grown to appreciate in my time testing various gaming mice. I also found the customization options to be surprisingly deep for such a cheap mouse. However, the Ozone Neon does miss out on lighting and macro functions.
Now let's talk about the user experience. The Ozone Neon is an ambidextrous mouse and as a result, its design is fairly similar to others on the market such as the SteelSeries Sensei, or the Zowie FK1. That said, I did find the Neon to be quite small and I was able to fit the entire mouse in the palm of my hand.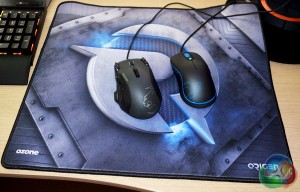 I'm not opposed to smaller mice, though it did take some getting used to, particularly since I normally use the Rocatt Tyon as my main mouse, which is significantly bigger. In the end, I found the Neon most comfortable while using fingertip grip, rather than palm or claw grip.
The 6400DPI sensor should be enough to keep most people satisfied. It is a laser sensor, so if you prefer optical then that is something to keep in mind, though I have no preference personally. A lot of gaming mice these days push upwards of 16,000 DPI, which is an insane level of sensitivity. I like to keep my mouse in the 2400 to 3200 DPI range, which the Neon managed perfectly fine.
Weighing in at 120g the Neon is a very light mouse, making swift movements very easy indeed. This is great for games that require a lot of twitch reaction movements, such as Counter-Strike. So if you are a competitive gamer who values speed, then the Neon delivers.
We have summed up that the Ozone Neon is a capable mouse, but how is the Origen mouse mat? Well we have already established that it is massive – so you may want to ensure that you have space for it on your desk!
The braided stitching along the edge of the mat should help fight against the material fraying away over time, which is a nice touch. This is a cloth mouse mat, which offers a level of surface friction that you don't get with the hard granular mouse pads. When it comes down to it, it's all about personal preference, if you like cloth mouse surfaces and you require a big one, then the Ozone Origen is a nice option.