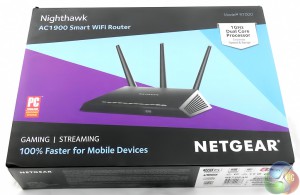 Netgear strongly suggests on the packaging that the R7000 router is aimed at the consumer rather than business with an emphasis on gaming, streaming and mobile devices.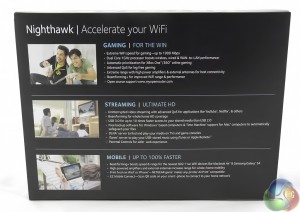 There is a reference to AC1900 which is one of those confusing claims about Wi-Fi speeds that requires some interpretation. In the case of the R7000 Netgear is claiming a maximum 2.4GHz speed of 600Mbps and on 5GHz we are looking at 1300Mbps.




The R7000 can handle simultaneous 2.4GHz and 5GHz operation so you can add those figures together, thus 600Mbps+ 1300Mbps= 1900MBps.
While the 5GHz operation is 802.11ac it is fair to point out the 2.4GHz Wi-Fi is 802.11n so the term AC1900 will possibly lead to some confusion.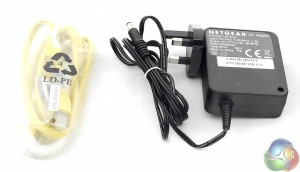 You don't get much in the way of accessories with the R7000, however you get pretty much everything you need. The adapter-on-plug power supply looks rather large in the photo however it is narrow and doesn't interfere with plugs in adjacent sockets, and the 1.5-metre Ethernet cable is plenty long enough to connect to your incoming Internet.
Although you get two mounting holes on the base of the router for wall mounting, Netgear doesn't include a couple of suitable screws and Rawlplugs in the kit.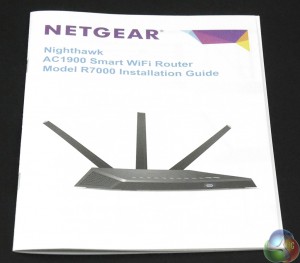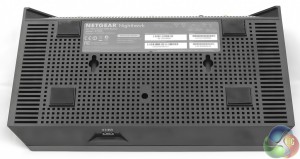 The installation guide is clearly laid out and walks you through the process of setting up your new router with the minimum of hassle. If you are familiar with the process you can flip the router over and find the log-in info you need, however the label is tricky to read.
You might be able to read the SSID and Wi-Fi password but it would take superb eyesight to read the grey-on-grey router log-in details.
As a public service message, the log-in URL is http://www.routerlogin.net with defaults of 'admin' and 'password'. It would make life easier if Netgear had a pull-out card carrying the details, in the same manner as BT Home Hub.