There's a lot to like about the Netgear Nighthawk X4S D7800. First off, the physical appearance of Netgear's now-standard router design is a balance of good looks and unique design without being garish.
The 3×3 performance puts it close to the top of the pile of 802.11ac routers, trading blows with Asus wireless routers for the top spot. In standard 3×3 802.11ac mode, tested with an off-the-shelf laptop with an internal adapter, it delivered some outstanding speeds in excess of 700 Mbit/sec. Great results, and the 160 Mbit/sec over ancient 802.11n at short range is excellent too.
Based on these results alone, the Netgear Nighthawk X4S D7800 is worth investing in, if you use a laptop with a 3×3 internal adapter, since the speeds are indeed better than a lot of cheaper routers.
What about the headline 4×4 802.11ac mode? For that, as we've pointed out, you'll need to invest in a second router to use in bridge mode as a client, doubling the overall cost. Looking at the short range results alone, it's not immediately clear that the investment is worth it. The average speeds increase by a relatively small margin, although we did record better burst results during the tests.
But at longer range, there's a much clearer difference. Two Netgear D7800 routers operating at 4×4 speeds achieve 577 Mbit/sec read and 595 Mbit/sec write, compared with just 323 Mbit/sec read and 402 Mbit/sec write with a laptop and a single D7800 in 3×3 mode.
That's a massive gain, and makes it worth the investment, to some people at least, particularly since the whole point of using two routers together is over longer distance, extending the range of a high-speed wireless network. If that's what you need, these results go a long way to justifying the additional cost and effort needed to set up a 4×4 network.
However, outside of the performance results there were also a few things we definitely did not like. While a preference for the look of a software interface is arguably a subjective matter, there are instances where it lacks functionality.
For example, when setting up bridge mode, there was nowhere in the interface to simply choose an available wireless network from a list, like you might expect on modern routers. Instead, Netgear expects you to type the SSID name, click apply, then hope when the router has finally rebooted, it's all working. During testing, this took three attempts to get right. And it's just one example of where a bit more polish to the software could have made a big difference.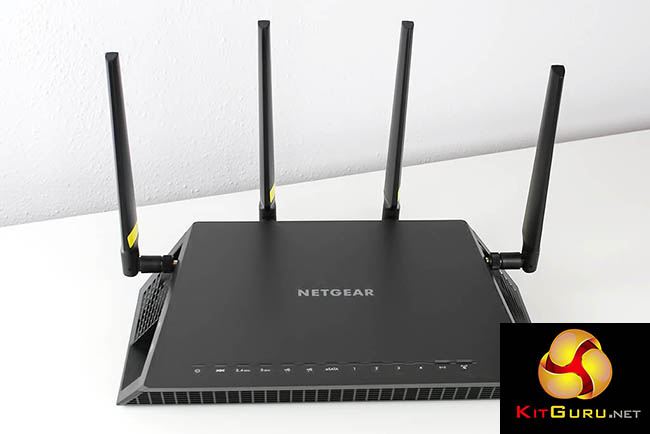 This is all worth mentioning because we've been so spoiled by the efforts of other firms. For example, the software of aforementioned Asus routers is simply miles ahead of Netgear's, not to mention Linksys, AVM and others.
But despite what is perhaps poor presentation, there are still plenty of settings to fiddle with, so the D7800 isn't really lacking in any features.
The USB performance is slightly disappointing. Perhaps the faster processor in the sibling R7800 model might improve transfer rates, but the speeds we recorded weren't impressive here.
You might feel you can live with these issues, of the software being a bit clunky at times, or you might not use the USB port. Crucially, behind it all is some very fast wireless performance, which is the reason most people choose a high-end router, and it's here where Netgear has delivered.
Discuss on our Facebook page, over HERE.
Pros:
Excellent 3×3 802.11ac wireless performance.
Good network performance over all wireless channels at short and medium range.
Full of useful hardware features.
Cons:
Uninspiring software interface.
USB performance misses the mark.
Kitguru Says: The Netgear Nighthawk X4S D7800 is far from perfect. The software pales in comparison to some competitors' efforts, and the USB performance could be better. But in its favour, we got some really good results over both standard 3×3 and quad-stream 4×4 802.11ac, particularly at long range.