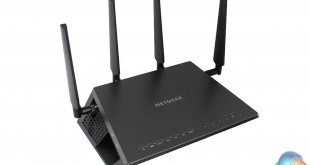 The Netgear Nighthawk X4S D7800 looks just about identical to its slightly more powerful and similarly named cousin, the R7800, and the older R7500 before it. It's a black trapezoid with four antennas in a porcupine-like arrangement, with the same pair of USB ports and eSATA port. It adds a few new features though, bringing MU-MIMO wireless, an integrated VDSL modem and 256-QAM over both 802.11n and 802.11ac.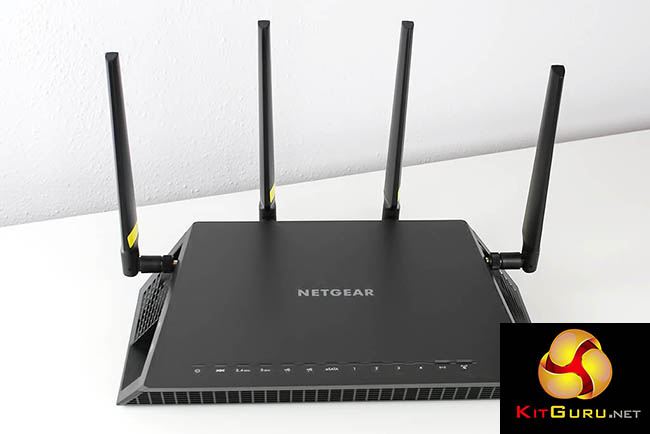 Under the radar of much of the technology world, a marketing war is taking place between router manufacturers. Official wireless standards are becoming left behind, as multiple firms are launching products with chipsets that support faster speeds, using proprietary encoding to push more bits into a wireless signal, and give faster headline speeds.
The Quadratic Amplitude Modulation (QAM) of a wireless signal describes how many potential bit values can be represented by a single pulse, or symbol, emitted from a router. Higher values mean more bits, and more bits means higher transfer rates. The official IEEE 802.11 wireless specifications standardise this value, but in order to get one up on the competition, router manufacturers (more accurately, the chipset providers such as Broadcom) are supporting faster QAM values, to drive even better performance.
The R7500 already supported 256-QAM over 802.11ac, delivering 1733 Mbps over four antennas. Now, with the D7800, 2.4GHz 802.11n supports 256-QAM as well.
The headline quoted speed of the R7500 was 2.33 Gbps, derived from 600Mbps over 802.11n plus 1733 Mbps over 802.11ac. That value is now 2.53 Gbps with the D7800, thanks to a small 200 Mbps increase from using 256-QAM for 802.11n, boosting its total throughput to 800 Mbps. Netgear is calling it AC2600 by rounding up.
Given that most router firms are now using chipsets that support higher QAM values, expect to hear more about this sort of thing in the future, including in other router reviews here on Kitguru. But unless both the router and client device support this higher QAM value, you won't see the benefit of the faster speeds. The only way to be certain to attain them is by using two routers, one of which is in bridge mode, which is how we have tested the 4×4 802.11ac mode on the Netgear Nighthawk X4S D7800.
But with the built-in wireless adapter on a standard PC or Mac laptop, you won't see that performance. The overwhelming majority of on-board 802.11ac wireless adapters use a pathetic 2×2 configuration, which admittedly is fine for most casual users for Facebook Messenger, but it means worse performance than whatever a router like the Nighthawk X4S D7800 is capable of. Apple's modern MacBook Pro laptops use a 3×3 configuration, which is still nowhere near what a modern top-end router can manage.
That means you won't get those speeds on the D7800 or any other 4×4 router without spending significant sums by buying a second router and using it in bridge mode. Otherwise you'll be limited to 3×3 or 2×2 802.11ac.
Aside from this change to the wireless configuration, the D7800 has a built-in ADSL/VDSL modem. It supports MU-MIMO for up to three devices and the internal memory has been doubled from 256MB to 512MB. Although the R7800 has been equipped with a 1.7GHz dual-core processor, the D7800 remains at the same 1.4GHz of the R7500.
It's a good feature set, and Netgear routers have performed well in previous testing. Can the Nighthawk X4S D7800 maintain these high standards? Let's find out.
Price: £245
Specification:
Wireless protocols: MU-MIMO Quad-stream 802.11ac, dual-band 2.4GHz / 5Ghz 802.11n (800Mb/sec), 802.11a/g, 802.11b
Antenna Configuration: 4×4 External Antennas
Wired protocols: Gigabit Ethernet
Included Modem: VDSL/ADSL 2+