Until the halcyon days of foldable and rollable displays arrive, we're pretty much stuck with whatever display size is integrated into our laptops for viewing on the go – or are we? One solution is to add a secondary, portable display, such as the USB-powered 16in AOC I1601FWUX we are looking at today. Great for presenting to clients wherever you are, multi-tasking, watching a movie on the train/plane, or even using at home if you fancy some extra screen real estate anywhere in your house, a sizeable portable monitor can enhance your work and play. Join us as we find out if AOC's new model is the one to go for.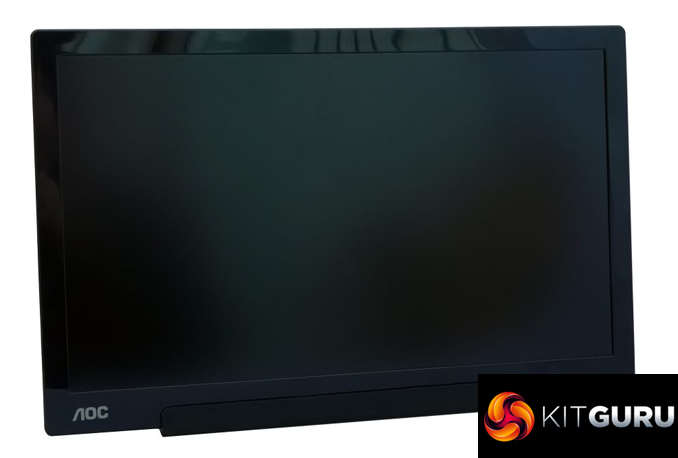 First and most importantly, your device will need to have USB Type-C to be able to run the I1601FWUX. And not just any USB Type-C, but one that supports DisplayPort via Alternative Mode (commonly abbreviated to DP Alt Mode). We'll cover this aspect in a little more detail in the "Connectivity" section on page 3, but, in a nutshell, you'll need a pretty recent source device with the correct port type – and no, a laptop that has separate 'lesser' USB Type C and DP ports won't cut it.
The advantages are that, since USB Type-C DP Alt Mode carries both video and power, the I1601FWUX works from just a single cable, and you only lose one port on your device. Aside from this, AOC's latest is a stylish and sleek device with a Full HD (1920 x 1080 pixels) IPS screen, metal-alloy back, and flexible magnetic stand that not only allows for portrait and landscape orientations but also acts as a cover, all for less than many competitors. So let's see how it performs.
AOC I1601FWUX Specs
Screen size: 15.6"
Curved: No
Native resolution (pixels): 1920 x 1080
Bit colour depth: 6
Refresh rate (Hz): 60
Panel type: IPS
Contrast ratio (typical): N/A
Brightness (cd/m²): 220
Response time (ms): 5 (GTG)
HDR: No
Bezel (colour, finish): Black, glossy
Display inputs: 1x USB C
Audio connections: N/A
Speakers: No
USB hub: No
Tilt: Yes (with cover)
Height: N/A
Swivel: N/A
Pivot: Yes
VESA mount: No
Power (plug type, internal/external): USB C
Cables provided: USB C
Depth on desk (cm): ~14.1
Weight (kg): 0.8
Other: Low Blue Light
Price (retail): £159.99 inc. VAT at time of review
Be sure to check out our sponsors store EKWB here