AOC's I1601FWUX Portable 16in monitor is an attractively styled and presented device. Most of the chassis is a rather fetching metal alloy, though the piano-back bezel picks up fingerprints and smudges easily. The segmented, slim and light magnetic cover makes a great first impression: it sports a rather pleasant texture on both sides, with a suede-like inner and leatherette-style outer finish which appear soft but durable, and offers a variety of configurations including landscape or portrait at various angles.
However, aside from that leatherette picking up fingerprints like CSI, the stand-cover really doesn't offer the most stable experience, and adjusting too far could result in the I1601FWUX taking an incredibly brief skydiving lesson.
Thanks to its single USB Type-C connector, connectivity is simple and hassle-free – as long as you have a compatible source device, that is. And keep in mind that not every laptop or tablet with this port will actually be able to support video output over it. AOC could have solved this by including a type-A DisplayLink adapter, as Asus did for its ZenScreen MB16AC, though that would doubtless have added to the cost.

When it comes to the OSD, AOC has kept its I1601FWUX rather minimalistic. With only one button to control everything it's perhaps a blessing in disguise that options are limited, but we would at least have liked a few presets for different use cases and/or calibrations. All of which might be forgivable if the included i-Menu software (which does include presets) actually worked, but in our testing we did not have much luck with it.
On a brighter note, the other software packages did perform as expected, with Screen+ being especially handy thanks to its ability to neatly divide your workspace into as many segments as are usable across multiple displays.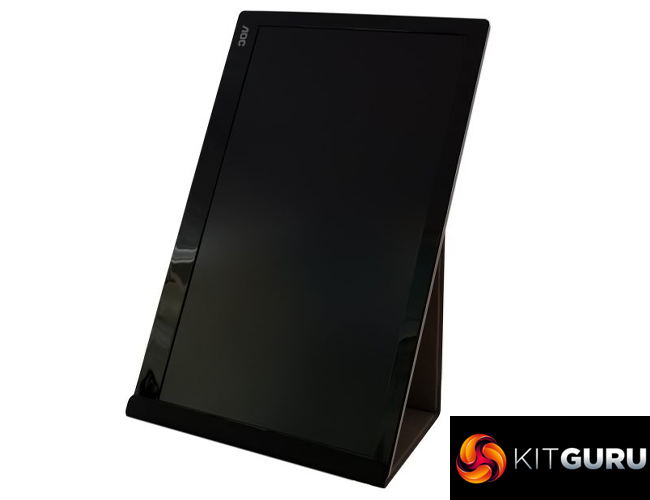 Nor does AOC's portable monitor really redeem itself much in the image quality stakes. Low brightness and contrast seem to be the norm for portable USB-powered monitors, and poor colour gamut is no exception either; but though it actually doesn't fare too badly in the brightness stakes compared to some rivals, in colour gamut the I1601FWUX sets a new record low, and its colour accuracy is nothing to write home about either.
The one exception to this somewhat lacklustre performance is its wide viewing angles, which resulted in virtually no noticeable colour shift even from extreme angles. Indeed, were it not that contrast doesn't behave up to the same standard, we would have crowned the I1601FWUX as a viewing angle king among LCD displays.
Aside from its design, lightness and viewing angles, the one major advantage that the AOC I1601FWUX has against most 15-16in portable competitors is price. Available at a smidge under £160, it compares well against the aforementioned Asus ZenScreen MB16AC which comes in at £233, and other Type-C mobile models which tend to cost around £200.
So if you're after a laptop-sized monitor for productivity rather than play, have a laptop with a USB Type-C port that supports DP Alt Mode, and are on a tight budget, then it's definitely worth considering AOC's model.
The AOC I1601FWUX Portable 16in monitor is available for £159.99 HERE.
Pros:
Sleek design with premium metal alloy rear
Easy to set up and connect
Attractive magnetic cover is slim, light and flexible
Excellent viewing angles for colour
Good value if you can live with its limitations
Cons:
Piano black bezel prone to fingerprints and scratches
Cover not the most stable stand solution
Awkward OSD with incredibly few options
Software inconveniently delivered and has issues
Poor contrast, colour coverage and colour accuracy
KitGuru Says: An attractive portable monitor with a sleek magnetic cover, the AOC I1601FWUX is held back by some design quirks, an incredibly basic OSD and controls, and somewhat disappointing image quality, all of which limit its usage to mundane productivity. However, if you're after an on-the-go display with excellent viewing angles and can live with its limitations, the AOC's affordable price makes it worth considering for those on a budget.