Although far from an exact science, whenever a major studio announces a new job opening at their company, it's often for something specific. There are traditionally quite a lot of open, or potentially existing jobs at large publishers and developers, but when something different shows up, it gives us a chance to wonder what they might be working on. A new position that's opened up at Blizzard, for example, might suggest that a new Diablo is in the works.
The job in question is for a new art director and as you read through it, it's quite a typical sounding position. Have 10 years experience working with game art, have at least five years experience as a lead artist, demonstrate strong skills with 2D and 3D art, etc. All of the usual stuff you would expect for such a position. Except this one also lists as its one and only "plus" point: "a passion for games with a deep understanding of the Diablo franchise."
Why would that be there if this wasn't for a game that was related to Diablo in some way?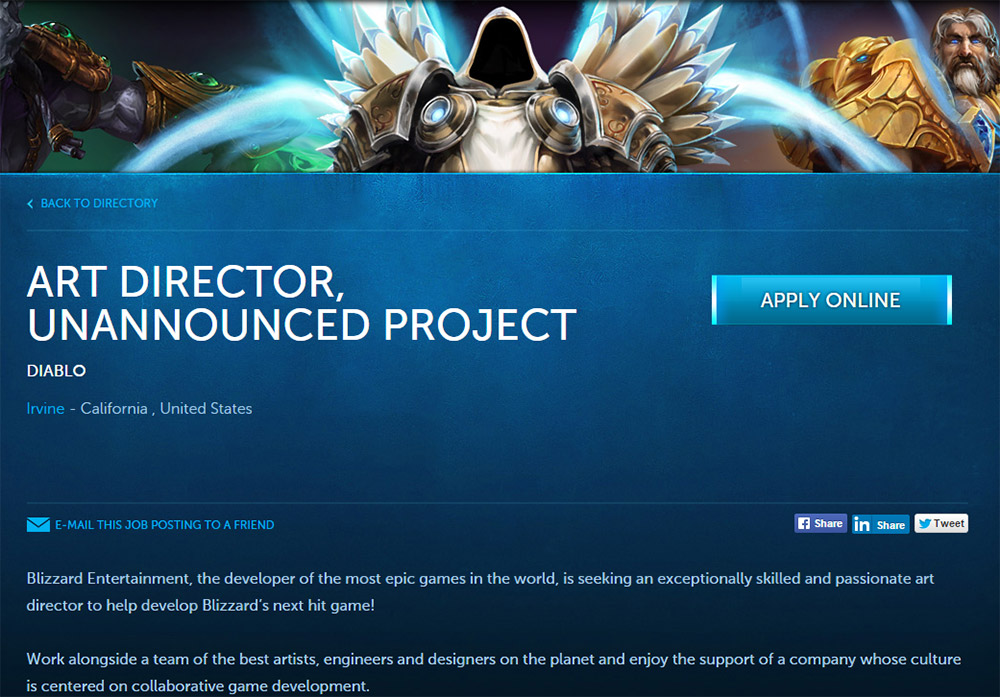 Of course this may not be a game that is in the same vein as Diablos that have gone before. It could merely be something related to the franchise, or based within its dungeon crawling universe. Or it could be a new expansion for Diablo III as PCG points out, which may be the most likely.
If so, perhaps Blizzard wants to take the game in a slightly new direction with regards to its artwork, providing a much more diverse environment to battle and quest through.
Discuss on our Facebook page, HERE.
KitGuru Says: If this does turn out to be a new expansion for Diablo III, what would you like to see in it?