You never really believed that even after its hit with Alien: Isolation, that Creative Assembly would stop making Total War games did you? Despite Rome II's somewhat lacklustre reception, another Total War game has been in the works for a couple of years already, but it steps into the world of fantasy to utilise one of the more beloved universes in tabletop gaming: Warhammer.
Total War: Warhammer hasn't been officially announced just yet, but it seems like it might be very soon, as its ongoing development was unearthed by a Total War Centre user, who found a reference to it in his early-delivered version of the Total War artbook. The quote within comes from creative director Mike Simpson, who while discussing strategy game multiplayer, said that the company was "also experimenting with this in the mobile space, with Total War: Kingdom, and taking the series to a fantasy setting with Total War: Warhammer."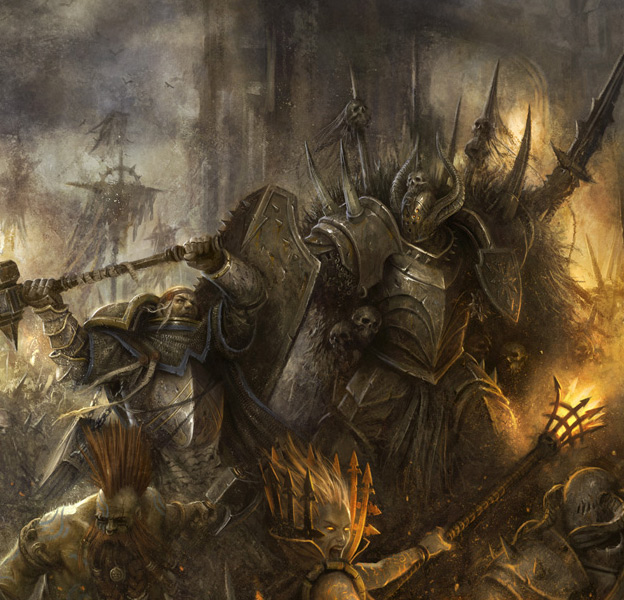 As Eurogamer points out however, we should have known this was coming, as an alliance between Games Workshop and Creative Assembly was announced back in 2012. Due to ongoing projects at the time, nothing was expected to be rushed out the door, but presumably development is now in full swing and we can expect some sort of official announcement soon, now that the cat's out of the bag.
Discuss on our Facebook page, HERE.
KitGuru Says: The only hope is that Creative Assembly's mention of mobile gaming wasn't linked to the Warhammer title. The last thing that franchise needs is more low budget titles. A nice, big budget war game would be perfect for Warhammer, especially if lots of races with unique units are included. 
Image source: Daarken