One of the best aspects of Attack on Titan, is that the enemies aren't disgusting in the traditional zombie sense, but they are unbelieveably creepy. It's not clear which side of the uncanny valley they're trying to haul themselves up, but they are there, and that's certainly the case in the new trailer for the PlayStation exclusive Attack on Titan game, set for release in Japan in February.
Not only is it creepy, but this trailer shows us a lot more than the original teaser too. It showcases gameplay elements like the use of vertical manoeuvring gear, various titan attacks, destructible environments and of course the gore of slicing off various parts of the monsters.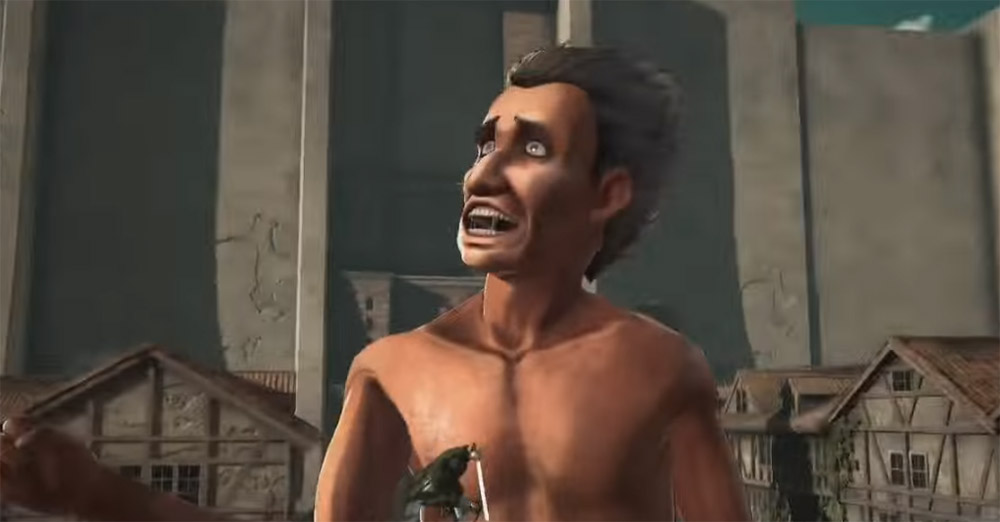 Yup, weird as usual.
There are a variety of different titans to take on, all with different dangers to be aware of, and training for those new to the idea of soaring through the air on grappling hooks and gas tanks.
With a somewhat cell-shaded visual style, the game looks pretty nice too, which some good looking environmental lighting, some impressively busy destruction and some detailed limb severing, which also adds some additional tactics to the slaying of the titans.
The game is being developed by Omega Force, the team behind the Dynasty Warriors series and various other properties like the well received Hyrule Warriors.
Although no Western release has been detailed as of yet, this Attack on Titan game is set to release on PS4, PS3 and PSVITA in Japan by February 2016.
Discuss on our Facebook page, HERE.
KitGuru Says: This actually looks pretty good. It's certainly the most graphically impressive Attack on Titan to date. There's lots of potential there, as the fan-game has shown us; if you do AoT right, it can be pretty amazing.